Evaluating changing environmental, psychological, and organisational characteristics of working from home and the impact on employees
Working from home has been an option for some since the 1970s. However, since the beginning of the COVID-19 pandemic, many workplaces and workers are attempting to work from home for the first time.
Under the dramatically different circumstances of a societal lockdown, many of us experienced what was essentially an overnight revolution in workplace behaviour.
But what will increased hours at home mean for our collective futures, and what effect will so-called hybrid workplaces have on workers and employers?
Will we be more (or less) productive? Are home environments destined to become an extension of the modern workplace? What is working-from-home likely to mean for our mental and physical health?
This study will describe different work from home conditions experienced by employees, and explore how that may impact on physical health, mental health, work outcomes, and health behaviours.
Information will be collected from participants in this study via a 20 to 25-minute online survey. Participants will be asked to complete the survey three times, across 6 months.
Participant benefits
Participants will go into a lottery draw to win one of four AU$100 Amazon gift cards. Each completed survey (0, 3 and 6 months) will correspond to multiple entries into the draw (5 entries at 3 months, 10 entries at 6 months).
Eligibility
To be included, participants should be:
Engaged in paid employment at the time of recruitment for a minimum 30 hours per week (paid employment includes self-employment and contracted workers);
A knowledge worker in Australia or the United States, from one of six industry sectors:

finance and insurance;
professional, scientific and technical services;
administrative and support and waste management and remediation services;
public administration;
educational services;
healthcare and social assistance;

Using a desk-top computer, laptop or tablet device to complete some of their work tasks.
Both workers who are working from home, and workers who do not work from home at all, are encouraged to join the study.
People will not be able to join the study if they:
Are currently unemployed
Are engaged mainly (>50% of their "working week") in unpaid volunteer work
Do not have sufficient English language comprehension to provide informed consent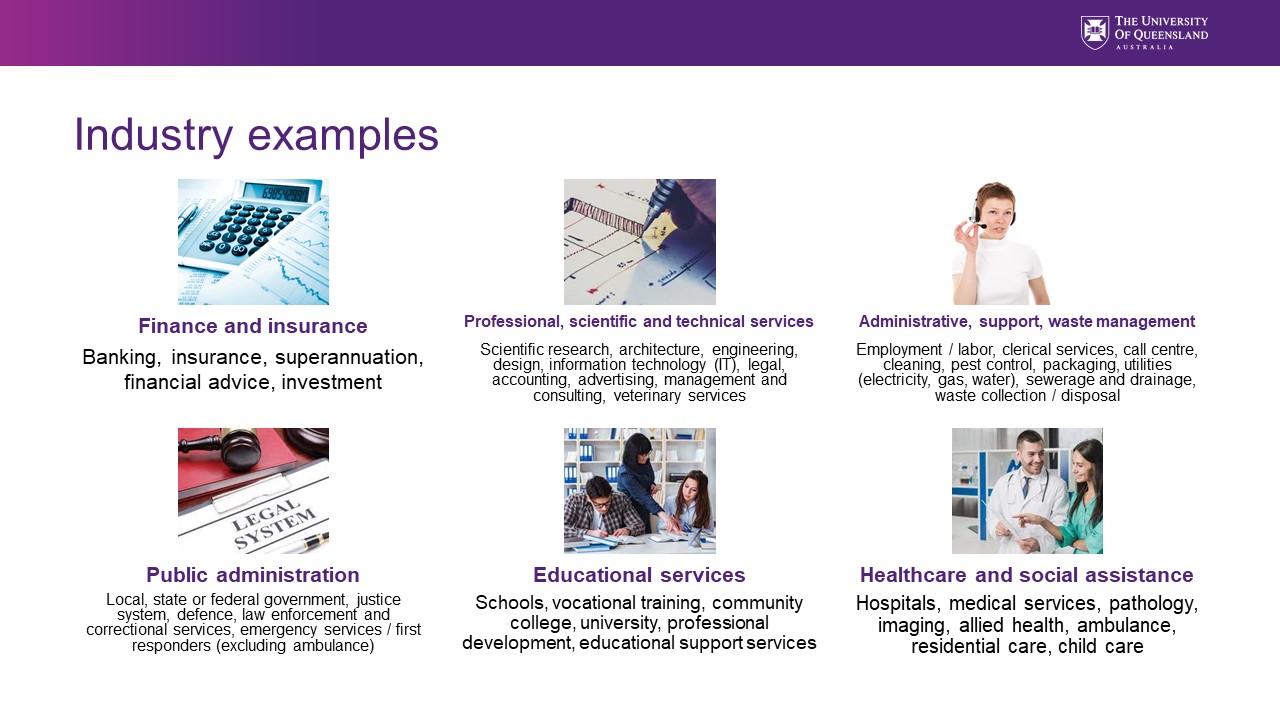 Register your interest
If you are interested in participating, please complete the survey below:
If you have any questions, please contact the lead researcher, Dr Elise Gane. 
This study has been approved by The University of Queensland Human Research Ethics Committee [Approval No. 2021/HE000959]