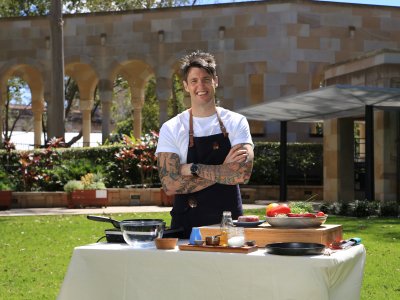 A Queensland celebrity chef will serve up a fusion of science, education and gastronomy when Food Labby Ben Milbourne is launched at Brisbane's Customs House on Tuesday, 31 January.
The University of Queensland graduate will unveil a novel international television concept that closely aligns with high school science curricula.
UQ has been an active partner in the production of the series, with Vice-Chancellor Professor Peter Høj pledging the university's support to Food Lab by Ben Milbourne at its inception.
"Ben has always had a hunger and a passion to make a difference, to make education appealing, interactive, engaging and fun," Professor Høj said.
"When Ben approached us early in 2016 with his idea, it took just a few quick discussions to win us over, such was the clarity of his vision and the evident potential.
"We're proud to have hosted filming on our magnificent campus, and to have Ben tapping into the minds of UQ's world-renowned educators and researchers during the production process.
"I believe Food Lab by Ben Milbourne will showcase UQ, the state of Queensland, and our nation as desirable destinations that produce knowledgeable graduates who are innovators."
The launch will be attended by Federal Minister for Ryan and Assistant Minister for Social Services and Disability Services Jane Prentice.
Mr Milbourne was a MasterChef finalist in 2012, and his solo program, Ben's Menu, has aired in 123 countries and attracted more than 35 million viewers.
A Bachelor of Applied Science (Human Movement Studies) graduate in 2004 – with a major in education – Mr Milbourne received a UQ Distinguished Young Alumni Award last year.
"Talk to any of Ben's supervisors or peers from his time at UQ and they consistently speak of someone who was both driven and a delight to teach," Professor Høj said.
"A top-50 global university steeped in tradition and a celebrity TV chef might not seem, at first glance, to be likely partners.
"However, defying expectations and encouraging unique concepts lies at the very heart of modern education.
"We're confident that, over the course of 13 episodes, this wonderful marriage of science, education and entertainment – not to mention the delicious food – will have viewers salivating for more."
The TV show will be accompanied by an online series that supports Australia's Science, Technology, Engineering and Mathematics (STEM) Strategy 2025 initiative.
A full array of sciences will be included, spanning chemical, physical, biological, earth and space science.
The show will spawn student lesson plans, experiments, investigations, discussions and research tasks, as well as quirky facts and activities – such as how to cook a meal in a kettle.
The first episode of Food Lab by Ben Milbourne is due to air at 3pm on Saturday 4 February on Channel Ten. To find out more about Ben and the Food Lab series go to: uq.edu.au/bens-food-lab/