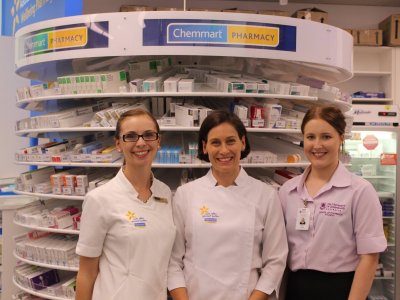 A rural Queensland pharmacy, owned and run by UQ alumnae, has been awarded Australian Pharmacy of the Year.
Lucy Walker Chemmart Pharmacy in Goondiwindi also won the Community Engagement category in the 2017 Guild Pharmacy Awards.
The annual awards, bestowed by the Pharmacy Guild of Australia, recognise pharmacies that are leading the way in providing innovative and optimal healthcare for members of their community. 
"The awards are a fantastic recognition for what we do on a daily basis, but we do what we do because we love it," Mrs Walker said.
"Along with dispensing, we spend time talking to our customers about their health, providing them with help and advice. 
"We are also part of the Gundy health care team – we work with other health professionals in the area, such as the local hospital, Indigenous health services and GPs, to provide a collaborative approach to regional health services."
UQ alumna Mrs Walker has been in Goondiwindi for ten years, where she employs 14 staff members, including pharmacist Emma Newsome who graduated from UQ in 2010.
"We care about our customers, and we feel that we're very fortunate because we are actively engaged in a community that is very supportive of our initiatives and services," Ms Newsome said.
"The pharmacy can be found at events around town, like under 8s day, dental health in the park, aged care expo, colour run, cotton growers' picnics, mothers' groups, farmers' talks, community garden days and all sorts of fundraising events."
Professor Peter Little AM, Head of the UQ School of Pharmacy, said the awards highlighted the dedication of UQ's pharmacy graduates.
"Mrs Walker and Ms Newsome are shining examples of the outstanding calibre of our graduates who continue to strive to provide more health care in even more ways," he said.
"Delivering health care to isolated and regional communities can be challenging, so it's inspiring to know that UQ graduates are playing an important role in this area.
"Our school encourages students to take up regional placements to see first-hand how rewarding it is to pursue a career in regional health services."
UQ Pharmacy student Brooke Hilton (pictured left) is currently on placement in Goondiwindi, and Mrs Walker hopes to welcome more students on placement in the future.
Media: Dani Nash, UQ Communications, dani.nash@uq.edu.au, +61 7 3346 3035.