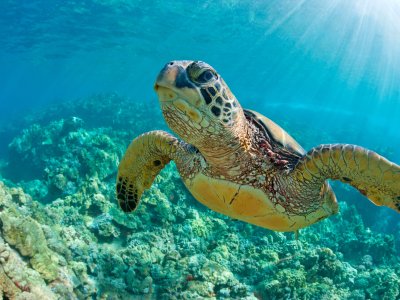 Chemicals including heart and gout medications, herbicides, pesticides, metals and industrial chemicals have been found in the blood of Great Barrier Reef turtles.
A research team led by Associate Professor Caroline Gaus, Dr Amy Heffernan and Dr Maria Jose Gomez-Ramos from the Queensland Alliance for Environmental Health Sciences (QAEHS) – a partnership between The University of Queenslandand Queensland Health – found the rate of chemical exposure surprising.
The research team tested blood collected from 'case' turtles at two coastal locations – Cleveland Bay and Upstart Bay – and compared these to 'control' turtles from the remote Howick group of islands which are far-removed from human sources.
"We found turtles from the two coastal areas recorded a long list of chemicals associated with human activities, including medication to treat gout, kidney stones and heart problems," Dr Heffernan said.  
"We also found the turtles had ingested chemicals used in industrial products such as adhesive, sealant and lubricant.
"The harmful health effects these chemicals have had on the turtles is distressing with biomarkers indicating inflammation and liver dysfunction."
This is the first study to link the external environmental and internal chemical exposure in the turtles by using a non-target screening technique, a cutting-edge, unbiased analytical approach.
These results were directly linked to previously published results from QAEHS collaborator Dr C. Alex Villa and Dr Mark Flint at UQ's Vet-MARTI unit, which reported elevated levels of cobalt and clinical markers of inflammation in Upstart Bay turtles.
"Thousands of chemicals are released onto the market every year, and often we don't know enough about them, including what effects they might have on the environment," Dr Heffernan said.
"This raises an important point – we should be including newly-developed synthetic chemicals in environmental monitoring programs."
According to the Chemical Abstracts Service (CAS), there are more than 130 million chemicals registered in the world.
Each day, 15,000 new chemicals are registered - one every six seconds - meaning databases for environmental contaminants cannot keep up.
This study was part of the larger Rivers to Reefs to Turtles project; a partnership between QAEHS, UQ School of Veterinary Science's Vet-MARTI unit, WWF-Australia, Queensland Government's Department of Environment and Heritage Protection, Griffith University, and James Cook University with support from the Great Barrier Reef Marine Park Authority, and funding from Banrock Station Environmental Trust.