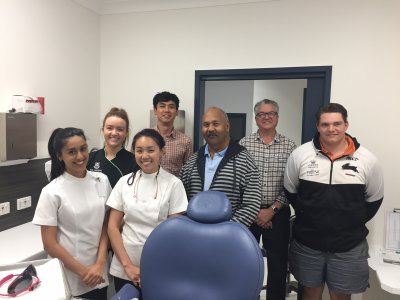 The launch of a new dental clinic in St George in south-west Queensland will ease the shortage of dental services available to the community.
The UQ St George Dental Clinic, a partnership between The University of Queensland's School of Dentistry and Goondir Health Services, will provide dental training for students and comprehensive dental treatment to the community.
Australian Dental Association Queensland Branch past President and UQ alumnus Dr Derek Lewis and his team will supervise fifth-year UQ Bachelor of Dental Science (Honours) students on clinical placements at the clinic.
"Practice in a rural community arms students with invaluable experience that will increase their employability when they graduate and inspire them to think outside of the city when they apply for jobs," Dr Lewis said.
"Having a local clinic dedicated to treatment for those at disadvantage is a great benefit to the community."
Dr Lewis has had more than 35 years' experience as a dentist in public and private practice in cities and rural areas.  
"As one who has experienced the joys of rural practice, I will encourage students to consider similar positions when they are seeking employment," he said.
"Encouraging more dentists to the bush is a very important health service I can assist with, as well as providing students with a successful career choice."
UQ School of Dentistry Head of School Professor Pauline Ford said the St George Clinic was an exciting step to making dental services more accessible to rural Queenslanders while providing rural placements for students.
She said students had reported that their involvement with the Goondir Health Service in Dalby  had encouraged them to consider working in regional Queensland.
"Having a presence in St George, 550km west of Brisbane, is of great benefit for rural health and for the breadth of experience we can offer our graduates," Professor Ford said.
Goondir Health Services Executive Officer Louise Sanderson said a survey of clients had identified dental health and access to dental services as a major issue.
She said the service would provide valuable cultural training.
"Every semester Floyd Leedie, the CEO of Goondir, takes the dental students to Cherbourg and provides them with the history of Aboriginal communities and how that history has impacted on today's health," Ms Sanderson said.
Media: Goondir Health Services, Ms Louise Sanderson, +61 0437 100 759; UQ Communications, Kirsten O'Leary, kirsten.oleary@uq.edu.au, +61 73365 7436.