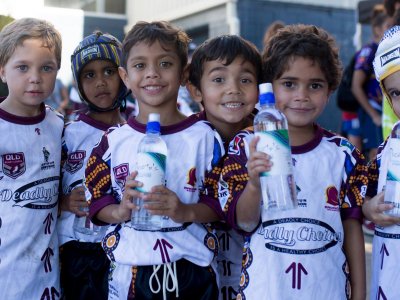 The University of Queensland welcomed the Institute for Urban Indigenous Health's (IUIH) Deadly Choices Junior Murri Carnival to the St Lucia campus.
Ahead of NAIDOC week, the carnival showcased the strong links between health, wellbeing, sport and education.
More than 600 Aboriginal and Torres Strait Islanders aged 6 to 12 nominated to participate in rugby league and netball games, in addition to a tour of the campus, demonstrations from Faculties, and meeting some of their sporting heroes, including the Brisbane Broncos and Queensland Firebirds.
UQ is supporting the IUIH event through the UQ Poche Centre for Indigenous Health and the Aboriginal and Torres Strait Islander Studies Unit.
Director of the UQ Aboriginal and Torres Strait Islander Studies Unit, Shane Drahm, said the carnival demonstrated strong links between UQ and the Aboriginal and Torres Strait Islander community.
"It's a fantastic opportunity to highlight our partnerships and the fantastic work of IUIH and the Deadly Choices program in community," Mr Drahm said.
Deadly Choices General Manager Keiron Lander said the event focused on promoting positive messages for the young participants and their families.
"A healthy choice is a deadly choice," Mr Lander said.
"The carnival is a smoke-free, sugar-free and alcohol-free event. All the children here this week have been attending school and have undergone a health check through their local services.
"The event is about bringing little people together in a safe environment focused on health, education and physical activity."
Media: Robert Burgin, r.burgin@uq.edu.au, 0448 410 364.