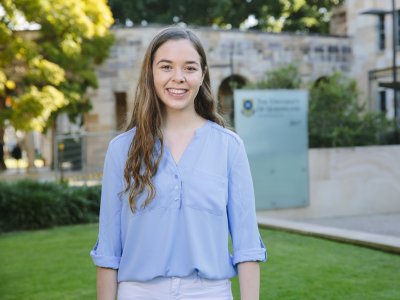 The University of Queensland's speech pathology program has been ranked number one Australia wide by students for teaching quality and educational experience.
Over 178,000 students from Australian universities and non-university higher education institutions rated their experiences in the 2016 federal Quality Indicators for Learning and Teaching (QILT) survey.
More than 94% of speech pathology students at UQ were satisfied with the quality of their 'entire educational experience' and over 97% were satisfied with the 'quality of teaching'.
The impressive results continued with students ranking the program number two on the skill development scale (student satisfaction 92.9%), and the learning resources scale (student satisfaction 94.7%).
Speech Pathology Head Dr Nerina Scarinci said the results were a testament to the hard work and dedication of the entire speech pathology team, including course coordinators, lecturers, tutors, and clinical educators, who all work together to ensure an exceptional experience for students.
"The UQ speech pathology team provide the best of both worlds for students, with expert knowledge and experience in both research and clinical practice," Dr Scarinci said.
Final year speech pathology student Monica Gehrke said she has found the lecturers at UQ to be experts in the fields they lecture in and passionate about the content they teach.
"Many lecturers provide insight and examples from their first-hand experiences in an area, so students are assured that the information being taught is highly relevant and applicable," Ms Gehrke said.
The variety of opportunities provided to students include clinical placements from first semester, simulated learning opportunities in paediatrics, acute care, swallowing, and voicedisorders, overseas placements, and interprofessional courses.
Second year speech pathology student Isabella Loeskow, moved from Bundaberg to live in one of the colleges at the St Lucia campus when she began her studies.
"Moving from my family and friends in Bundaberg to study speech pathology in Brisbane was a daunting but exciting move.
"I'm thoroughly enjoying my studies and in particular the placement opportunities.
"As I'm interested in working with children it was great to be able to do a full day placement at a school last year to get an understanding of what's involved in this area of speech pathology.
"This year, we work for half a day, every week in the UQ clinics.
"We see patients with a variety of experiences and this provides us with an opportunity to see what it would be like working in the real world as a speech pathologist."
As one of Australia's leading health and rehabilitation educators, the school has internationally recognised and award-winning teaching and research staff, inspiring alumni and high quality students produced every year. 
School of Health and Rehabilitation Sciences Head Professor Louise Hickson congratulated academic and professional staff on their hard work to deliver quality course structures and exceptional teaching standards.
"We are very lucky to have a team who work closely together and thoroughly enjoy sharing their energy and enthusiasm for speech pathology to the next generation of clinicians."
Media: Kirsten O'Leary, UQ Communications, kirsten.oleary@uq.edu.au, +61 73365 7436