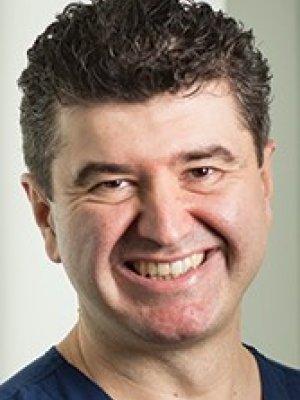 An opportunity to reinstate and lead a specialist training program in periodontics has attracted Professor Saso Ivanovski to return to UQ's School of Dentistry where he was a student and academic staff member between 1989-2006.
Periodontology or periodontics is a field of dentistry that specialises in the supporting structures of teeth and the treatment of gum disease.
A registered periodontist, Professor Ivanovski said it was during his undergraduate studies that he was inspired by several mentors to pursue his career in periodontics.
"Having such strong and respected mentors in this area gave me the motivation to complete a PhD in the field of periodontal regeneration and specialist clinical training in the field of periodontics," Professor Ivanovski said.
"I was fortunate to work with great teachers and obtain training across multiple facets of clinical research and the biological sciences, leading to a successful and rewarding academic career.
"In my new role at UQ I am looking forward to progressing my research in regenerative dentistry to ultimately impact the health and life quality of patients."
Professor Ivanovski's most recent position was Chair and Professor of Periodontology at the Griffith University School of Dentistry and Oral Health, where he led the specialist training program in periodontology and was discipline lead of dental implantology.
He graduated with a Bachelor of Dental Science in 1993, PhD in 2000 and Master of Dental Science in Periodontology in 2002, all from The University of Queensland.
Professor Ivanovski is the former federal president of the Australian Society of Periodontology (ASP) and the Australasian Osseointegration Society (AOS), and is a fellow of the International Team of Implantology, the Academy of Dentistry International and the International College of Dentists.
Some of his career highlights include a NHMRC training postdoctoral fellowship at UQ's Institute of Molecular Biosciences, a fellowship at the University College of London's Eastman Dental Institute and numerous NHMRC project grants.
"I am very lucky to work in an area I love and have enjoyed mentoring postdoctoral fellows, PhD students and professional clinical doctorate students who have gone on to have successful careers," Professor Ivanovski said
"Having the ability to draw on the positive experiences I have had and inspire students to excel in their desired profession is very fulfilling."
Professor Ivanovski will lead a research group within the UQ School of Dentistry, with a focus on the clinical and biological aspects oro-facial reconstruction and regeneration.
Head of School of Dentistry, Professor Pauline Ford said the appointment will strengthen the School's capacity to produce outstanding research and skilled leaders in dental science.
"We are very fortunate to have a periodontal specialist of Professor Ivanovski's calibre to join our School."
Professor Ivanoski will begin his appointment in early October.
Media: Kirsten O'Leary, UQ Communications, kirsten.oleary@uq.edu.au, +61 73365 7436