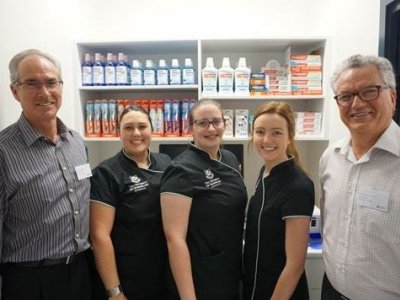 Accessible dental services have been provided to rural and Indigenous communities, thanks to the new St George Dental Clinic that was officially launched last week.
The UQ St George Dental Clinic, a partnership between The University of Queensland's School of Dentistry and Goondir Health Services opened in June this year and has treated over 270 patients, of whom 94 per cent were Indigenous.
The clinic has also provided dental training for nine final year dental students.
UQ Faculty of Health and Behavioural SciencesExecutive Dean Professor Bruce Abernethy said the clinic has proved to be very beneficial to the health of the St George community and for the rural experience offered to students.
"Ninety percent of this year's graduating cohort were fortunate enough to be placed at either the St George or Dalby clinics throughout 2017," Professor Abernethy said.
"Research indicates that students who have been on rural practice are far more likely to return to work in rural areas once they qualify.
"This is a good result to address the maldistribution of the health workforce in these areas. 
 "We've also been actively implementing our rural strategies in other areas, including admission to the Bachelor of Dental Science (Honours) program.
"From 2017, a rural sub-quota special admissions scheme was implemented to increase the number of students of rural origin.
"This is part of our strategy to address the challenges rural areas of Australia often have with restricted or limited access to educational opportunities, resources and health services compared to those available in cities or larger towns."
The new St George Dental Clinic complements the existing UQ Dalby Dental Clinic.
Indigenous health is a particular focus for the Dalby clinic, with Dalby having a significant Indigenous population.
This year over 560 patients accessed the Dalby Dental Clinic and 87 per cent of these patients identified as Indigenous.
Gary White, Goondir Health Services Chairperson said they are very appreciative to the government and university for their commitment to closing the gap. 
"We are very thankful for the opportunity to have the dental service on our site and the 10 year agreement to provide dental services in St George. 
"As our Indigenous population has had an increased incidence of oral disease, the dental service provided will go a long way to fill the gap. 
"Goondir Health Services referral to the dental clinic is tied to our health checks and provides continuity of care for our clients."
Media: Kirsten O'Leary, UQ Communications, kirsten.oleary@uq.edu.au, +61 73365 7436