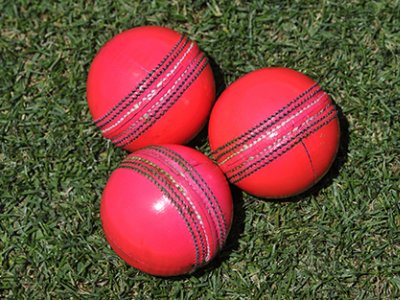 Anyone watching the Ashes this summer and struggling to see the pink cricket ball used in day-night matches should try wearing rose-tinted glasses, according to University of Queensland researchers.
UQ School of Psychology Associate Professor Derek Arnold had previously found that around sunset a pink cricket ball has reduced brightness contrast against its surroundings.
"Changes in lighting — due to the sun getting 'redder' around sunset — reduce the brightness contrast of the pink ball against the pitch, grass and sky," Dr Arnold said.
"As a person's perception of motion relies on brightness contrast rather than colour, this could be a problem for players in sports like cricket —where timing is crucial for winning and for safety."
Dr Arnold's research team measured how changes in brightness contrast could impact timing in cricket, and studied how any negative impacts could be alleviated.
"By simulating the brightness contrasts measured in a day-night Sheffield Shield cricket match at the Gabba, we found that the reduction in contrast during twilight conditions resulted in worse timing," Dr Arnold said.
"Artificially brightening the ball by viewing it through rose-tinted glasses improved timing by around 10 per cent.
"As artificially enhancing contrast improved timing, it may also be beneficial at other times of the day, and in other sports like tennis."
Dr Arnold said that we could see an increasing numbers of players and umpires wearing rose-tinted glasses to enhance brightness contrast and timing.
"It could lead to fewer miss hits and dropped catches, and perhaps even help players and umpires avoid a fast-moving object when they need to.
"Cricket tragics— like me — may want to try wearing rose-tinted glasses at a day-night match to better see the ball; it was certainly helpful when taking light readings at the ground."
The study is published i-Perception journal.
Media: Associate Professor Derek Arnold, d.arnold@psy.uq.edu.au, +61 7 3365 6203; Dani Nash, UQ Communications, dani.nash@uq.edu.au, +61 7 3346 3035.