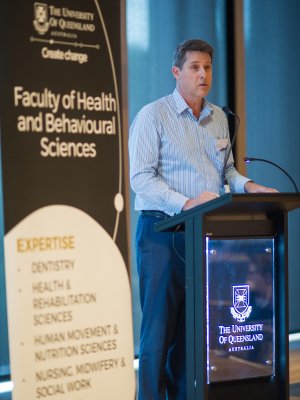 Academic, research and professional staff who have made outstanding contributions to the Faculty and wider university have been recognised at the 2017 Faculty of Health and Behavioural Sciences Awards.
Excellence in leadership, service and innovation was rewarded with monetary awards for professional staff and tutors, and project funds for academic staff.
The ceremony was presented by Faculty Executive Dean Professor Bruce Abernethy, Associate Dean (Research) Professor Christina Lee, Associate Dean (Academic) Professor Sarah Roberts-Thomson and Faculty Executive Manager, Tricia Williams.
"The strength of our Faculty is reflected by our hard-working and dedicated staff," Professor Abernethy said.
"This is a fantastic opportunity to recognise our stellar staff who are working across diverse roles and the impact they are having on the operational and strategic endeavours of the university.
"I can see why the judging panel found it difficult to choose a recipient for each category as there was such a high calibre of nominations this year.
"Congratulations to each nominee and award recipient who are all highly deserving winners."
This year the Faculty celebrated the accomplishments of staff in three categories: Teaching and Learning, Research, and Professional Staff.
The 2017 HaBS Awards recipients are:
TEACHING AND LEARNING
Tutor and Demonstrator
Commendations
John Bassett
Gianni Ribeiro
Award recipients
Marion Carrett
Tarli Young
Citations for Outstanding Contributions to Student Learning
Award Recipients
Susannah Brady
Dr Anna Hatton
Early Career
Teaching Excellence
Award Recipient
ACADEMIC (Research and Teaching and Learning)
Global Engagement
Award recipient
Leadership
Award recipient
RESEARCH
Early Career Research Excellence
Award recipients
Dr Fiona Kate Barlow
Dr Tina Skinner
Research Translation
Award recipients
Associate Professor Sally Bennett
Professor Kenneth Pakenham
Research Mentorship
Award recipient
-            Professor Gregory Monteith
Higher Degree Research Supervision
Award recipients
Dr Pamela Meredith
Associate Professor Mark Nielsen
PROFESSIONAL
Innovation
Award recipient
Customer Service
Award recipient
Leadership
Award recipient
Above and Beyond
Award recipients
Cheryl Byrnes
Alison Pike
Team Work
Award recipients
Faculty of Health and Behavioural Sciences Marketing and Communications Team: Dani Nash, Kirsten O'Leary, Isobel Whiting-Davis, Mohini Mutya, Alice Graham, Loretta Porche, Emma Mackenzie, Caroline Day, Jo Hickman