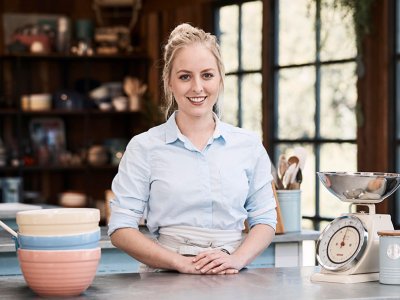 The ovens are preheated and a fresh batch of Australia's best amateur bakers is ready to knead the dough – with one of The University of Queensland's own rising to the heat in The Great Australian Bake Off.
Student Emma Sievwright recently graduated with a Bachelor of Science with First Class Honours in Human Biomedical Anatomy and is continuing her studies in dentistry.
She is competing as the youngest of the bakers in series three Foxtel's popular cooking show.
Emma whips her background in science with a passion for baking in a mixture that yields delicious results.
"I always enjoyed baking as a kid with my mum and my grandma and I have always loved knowing how things work, so I really believe that science fits into baking," she said.
"The fact that you can start out with a few reactants and make a product is just so intriguing."
Emma strudels the fence in an amusing combination with her studies and baking, sometimes baking while she listens to forensic case file podcasts.
"It's really funny to be making sweet food with quantities of sugar while also learning how unhealthy sugar is for a person's teeth and health," she said.
"But when I was coming to the end of my honours year – which was a stressful period – baking was a real help in relieving some of that pressure."
The Great Australian Bake Off is a 10-part series in which a batch of bakers grease the pans and sift their way through a series of challenges to reach the top-tier of the cake.
The bakers are judged by culinary icon Maggie Beer and chef Matt Moran and hosted by comedians Claire Hooper and Mel Buttle.
As the youngest in the competition, Emma said that she was nervous about lacking experience compared to Australia's upper-crust of amateur bakers.
"The first technical challenge I was presented with was to make madeleines – something I had never heard before," she said.
 "It was pretty tricky, but all the bakers in the shed are supportive.
"They helped me whenever I had a question or trouble."
What Emma lacks in experience, she makes up for in her mind-over-batter approach to baking.
"My background is all about following scientific methods, and following a recipe is not that different," she said.
"The main thing I try to do is have a good solid foundation with a recipe that I have spent time perfecting, then be creative with the decorations
"Since so much of my studies is scientific and involves trial and error, being able to be creative in my bakes is exciting.
"I have tried to expand my knowledge in baking and I experiment in places that I never have before.
"A lot of the other bakers have their areas of strength, so I am learning from them as I continue my time in the Bake Off shed."
The Bake Off franchise began in 2010 with The Great British Bake Off, where it became a ratings phenomenon.
The format has been produced in the US, Denmark, Sweden, Belgium, Poland, Ireland, Norway, Finland, Germany, Italy, The Netherlands, Turkey, Ukraine and France, as well as previously in Australia for the Nine Network in 2013.
Foxtel's The Great Australian Bake Off screens Thursdays at 7:30pm (8:30pm AEDT) from 18 January on Lifestyle and is available on Foxtel Now.