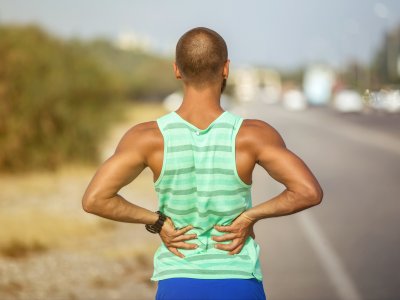 A team of researchers from The University of Queensland (UQ) has won a prestigious clinical science award from the International Society for the Study of the Lumbar Spine (ISSLS).
Sponsored by the European Spine Journal, the ISSLS Prize Program comprises of three $20,000 USD prizes awarded competitively in areas such as basic science, bioengineering science, and clinical science and is the most distinguished international prize for low back pain research.
The authors Dr David Klyne, Professor Paul Hodges and Mr Wolbert Van den Hoorn all from UQ's School of Health and Rehabilitation Sciences were awarded the prize for their paper 'Longitudinal analysis of inflammatory, psychological and sleep-related factors following an acute low back pain episode; the good, the bad and the ugly'.
The study aims to uncover why some people who experience an episode of low back pain go on to have a chronic problem, whereas others do not.
Dr Klyne said that back pain is the leading cause of disability worldwide, and up to 90 per cent of people experience back pain at least once in their life.
"Back pain is particularly troublesome for those who go on to suffer chronic episodes and this is one of the first studies that aims to detect who is likely to develop more persistent problems," Dr Klyne said.
"Findings suggest that most people have an inflammatory response during an acute episode of pain, but not always in the same way.
"Inflammation is the body's normal response to injury and is important for healing but some patients have an exaggerated inflammatory response which can be caused by other issues such as quality of sleep, quality of movement, and depression.
"Control is everything in inflammation, and a lack thereof could have detrimental consequences not only on the pain system, but on other functions such as mood, potentially causing a downward spiral of elevated inflammation, depression, and pain."
Results from this study could be used to identify patients who are less likely to recover and direct them to the appropriate treatment much sooner.
Professor Paul Hodges is a three-time winner of this award and will travel to Banff, Canada along with Dr Klyne to collect the award and present the findings at the ISSLS annual general meeting.
"This study is the first to show that the acute inflammatory response in back pain is related to long-term outcome, and is particularly novel because it shows that although some forms of inflammatory response are good, others are not," Professor Hodges said.
"The study opens up a whole new opportunity for early detection of individuals at risk for development of chronic back pain, and opens up opportunities to test new combined treatments such as exercise to influence inflammation and techniques to improve sleep that may prevent persistence of back pain when targeted at the right individuals." 
The paper is available online, here.
Media: Dr David Klyne, d.klyne@uq.edu.au, +61 7 3365 4569; Jo Hickman, UQ Communications,jo.hickman@uq.edu.au, +61 7 3346 3037.