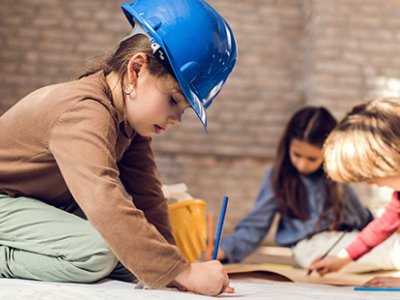 Children's refrigerator artwork could help design one of Brisbane's newest playgrounds, with The University of Queensland calling on kids to get creative with coloured markers to draw their dream play space.
UQ is planning an all-abilities public playground at its St Lucia campus and wants the community to get involved through a design competition to help create the best possible space.
UQ Chief Operating Officer Greg Pringle said there was no-one better qualified than children to advise on such a project.
"We feel the best way to ensure the playground appeals to children and their families is to get them to help us create it," Mr Pringle said.
He said the competition was open to everyone.
"The playground will be a destination the whole family can enjoy, so we're keen to get input from parents, grandparents, aunties, uncles and friends."
UQ School of Human Movement and Nutrition Sciences researcher Dr Eimear Enright said the co-construction of the playground with children and young people recognises the value of play in children's lives.
"There are countless theories and perspectives on why children play and why play matters for children, but everyone agrees play is fundamental to the health and well-being of children," Dr Enright said.
"By enlisting the end-users to help with the design of this project we're acknowledging from the beginning that children are the experts."
Dr Enright said the playground will be as inclusive as possible for children of all abilities, and UQ will be seeking input from young people with disabilities during the design phase.
Mr Pringle said the playground would offer all children the opportunity for fun and adventure while encouraging families to enjoy the 114-hectare St Lucia campus.
"We're really looking forward to getting some imaginative and colourful entries that will help us build a better playground for Brisbane kids and their families," he said.
The UQ playground design competition is open until 29 March to individual, class and school entries.
A drawing and/or written submission can be emailed or posted to UQ. For details, including full terms and conditions, visit the competition website.
Media: Belinda McDougall, UQ Communications, communications@uq.edu.au, 07 3346 7890.