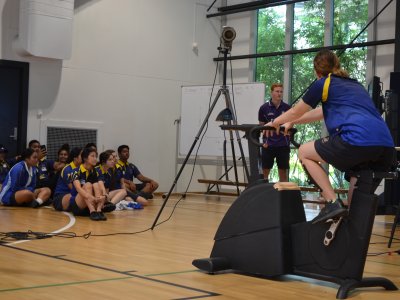 The University of Queensland (UQ) celebrated National Biomechanics Day by inviting high school students and their teachers to a series of hands-on biomechanics workshops.
On Monday 23 April, a group of 120 students and teachers from six Queensland high schools visited UQ's Centre of Sensorimotor Performance to explore the physics and biology of human movement.
The students, currently in years 10-12 of high school, had the opportunity to participate in a range of real biomechanics testing and demonstrations from performing jumps onto force measuring plates and analysing cycling performance in 3D, to learning how the brain can control muscle contraction.
Professor Andrew Cresswell from UQ's School of Human Movement and Nutrition Sciences said the event aimed to inspire young people to pursue careers in STEM (Science, Technology, Engineering and Mathematics) and to raise awareness of the world of biomechanics.
"A fundamental example of STEM, biomechanics combines biology, physics, statistics, and muscle and movement analysis into one awe-inspiring, human-enhancing creative endeavour,"
"Students had the opportunity to take part in a range of testing and measuring methods giving them a unique insight into the career possibilities of studying human movement."
Ms Ashleigh Machin, a Physical Education teacher from Clontarf Beach State High School said her group of 20 students loved their experience on the day and really got a taste of what it would be like to study biomechanics at UQ.
"Ninety-nine percent of our student group hadn't been to the UQ St Lucia campus before, which was a privilege in itself,"
"Being able to explore the campus, see classes in action and get hands-on access to the technology and facilities was a huge deal for them."
"Many of our students have never been exposed to the technology behind biomechanics and this program has provided a wonderful opportunity for the start of our unit this term which is studying the biomechanics of netball".
"We will definitely be back next year."
Media: Jo Hickman, UQ Communications, jo.hickman@uq.edu.au, +61 7 3346 3037