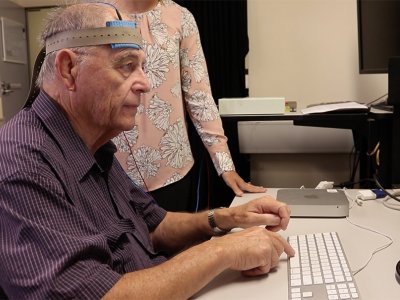 Brain training and stimulation in older adults may be the key to tackling cognitive decline and dementia, according to University of Queensland researchers.
Associate Professor Paul Dux and his team in the UQ School of Psychology are looking to recruit 200 healthy adults, aged 60 to 75, to take part in a study on cognitive training and brain stimulation.
"The ageing population has been identified as a key global health problem, bringing an increase in age-related disease and disability," Dr Dux said.
"We need to examine and understand ways to prevent cognitive decline and dementia.
"Our study is using a form of non-invasive brain stimulation called transcranial direct current stimulation (tDCS), where we pass a very weak electrical current through two electrodes on the scalp.
"It's virtually unnoticeable, causing only a mild sensation, and it has already shown promising effects in young adults.
"We combine the tDCS with a computerised behavioural training program where people try to improve their decision-making reaction times, and test people on a range of other tasks that measure memory and the ability to stay task-focussed."
The study is being conducted at UQ's St Lucia campus, where participants take part in eight sessions over a three month period.
"People come into the lab for an initial session where we take a number of base-line measurements assessing cognition, and they return for daily brain stimulation and training across a week," Dr Dux said.
"There are follow-up sessions after one month and three months so we can see if the benefits continue over time.
"We recognise it's a large time commitment, with each session ranging from one to four hours, so we will pay people $320 for taking part.
"More importantly, participants will be involved in one of the largest studies of its kind, helping us find ways to enhance cognition in people as they age, and that's a huge issue facing world health."
If you would like to participate, contact researcher Kristina Horne, k.horne@uq.edu.au or 0411 641 079.
Facts: ageing population, cognitive decline, dementia
One of the biggest global health challenges is the ageing population.
It is predicted that the global population of older adults will more than double by 2050. One in six workers is now aged over 65, and that figure will rise to one in three by 2050.
Age-related cognitive decline has a profound impact on job performance and on how the health system is run.
Age-related cognitive decline affects people's everyday lives, such as the ability to plan, make decisions, solve problems, socialise, and care for themselves.
About 30 per cent of adults over 65 will experience cognitive decline and face a substantially increased risk of developing dementia.
The annual cost of dementia in Australia is now estimated at more than $15 billion, and is expected to increase to more than $36.8 billion by 2056.