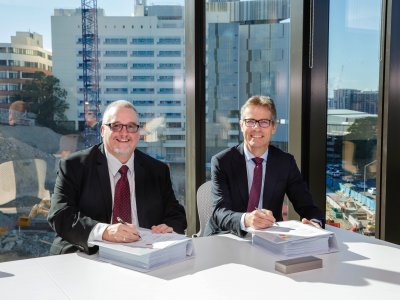 A specialist rehabilitation and surgery centre has taken a major step forward with the formal signing of a 20-year partnership between Metro North Hospital and Health Service and The University of Queensland.
The 184-bed public centre will be one of the largest tertiary specialist rehabilitation centres in the southern hemisphere, accommodating about 100 nursing and allied health students.
The Specialist Rehabilitation and Ambulatory Care Centre (SRACC) Alliance will be delivered through a facility being built as part of the $1.1 billion Herston Quarter redevelopment.
UQ Vice-Chancellor and President Professor Peter Høj said a key feature of the Alliance was the innovative model of clinical care and embedded research.
"Research will be driven by the needs of the patients and clinicians, which will provide continual opportunities to improve clinical practices and procedures," Professor Høj said.
"A broad range of clinical placements will be available for UQ students in nursing, occupational therapy, physiotherapy, speech pathology, audiology, nutrition and dietetics, clinical psychology, social work and rehabilitation medicine.
"From 2021, 60 UQ nursing students will be placed within the facility each year, with an expected 1200 nurses to complete placements over the course of the partnership."
MNHHS Chief Executive Shaun Drummond said the world-class facility would provide specialist surgery and endoscopy, and clinical rehabilitation services for patients with a variety of conditions including brain injury and chronic pain across Australia and the Asia-Pacific region.
"I am pleased that this partnership formalises our long-term commitment to fully integrate clinical care, education and training, and research," Mr Drummond said.
"This state-of the-art facility will provide UQ students with access to a high standard of quality clinical exposure and complex rehabilitation services.
"This partnership will embed clinical education and research to achieve improved outcomes for those with complex rehabilitation needs, and at the same time deliver an efficient public health system."
A joint SRACC Alliance Governing Board will be established to oversee research projects, decide on the appointment of key educators and conjoint positions and promote the innovative research and education opportunities available.