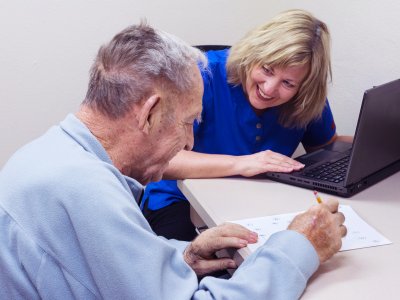 An anonymous donation of $500,000 will fund Australia's first dedicated aphasia rehabilitation and research centre.
The University of Queensland Aphasia Research Group will also use the funding to support research into patient-specific treatment options, including the use of modern technology such as mobile phones and computerised therapy.
Approximately 120,000 Australians have aphasia, a language and communication disorder that occurs in one third of all strokes, and can also be caused by traumatic injury to the brain.
Professor Linda Worrall from the School of Health and Rehabilitation Sciences said the funding will enable further research into developing treatments that maximise language recovery and prevent mental illness.
"Living with aphasia is often a lifelong disability associated with social isolation, increased adverse events, unemployment, and an increased risk of depression" she said.
"The donation is a dream come true and we envisage the centre being a hub of support for patients and their families."
The centre will provide an opportunity to embed the UQ-developed intensive aphasia treatment program, Language Impairment and Functioning Therapy (LIFT) in clinical practice.
Professor David Copland said that the centre's main aim will be to solve a long-standing problem– determining which treatment is best for each patient, and when it should be delivered.
"The key focus will be improved health outcomes made possible by LIFT, which is the only comprehensive aphasia treatment program currently delivered in Australia," he said.
UQ's Faculty of Health and Behavioural Sciences Director of Advancement Inma Beaumont said the donation will support critical research and education that will lead to improvement in the quality of life for people living with aphasia.
"Expected outcomes include increased provision of services to people with aphasia throughout Queensland and Australia, better health outcomes including better language recovery, and a reduction in anxiety and depression," she said.
In addition, the centre will help to increase awareness of aphasia in the community and promote breakthroughs in clinical assessment and treatment.
Find out more about donating to UQ.