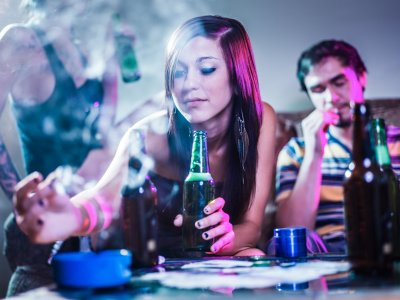 University of Queensland researchers have long been interested in the topic of substance abuse, whether alcohol, tobacco, narcotics or prescription drugs, and have been researching the subject from a variety of perspectives.
Working with colleagues Professor Jason Connor and Sarah Yeates, Professor Wayne Hall, founder of the Centre for Youth Substance Abuse Research (CYSAR) has spent many years exploring how and why young people 'escape reality' through drugs and alcohol.
His research has spawned countless books and papers, and has been used to provide advice to the World Health Organization and other major policymakers such as the UN Office of Drugs and Crime, European Monitoring Centre for Drugs and Drug Addiction, and Australian state and federal governments.
Professor Hall's specific expertise is in the costs to, and impact on, public health from tobacco, drug and alcohol addiction. He is also interested in public health ethics, the cost burden of drugs, the value of addiction interventions, and genetic and neuroscience research.
Through his work with CYSAR, he aims to promote the health and wellbeing of young people by increasing our capacity to respond effectively to the harm associated with alcohol, tobacco and other drug misuse. He also hopes that by discovering new and innovative ways of preventing and treating substance misuse, we can provide better health outcomes for all.
Read more about how UQ research is helping to prevent and treat substance misuse in young people on the CYSAR website.