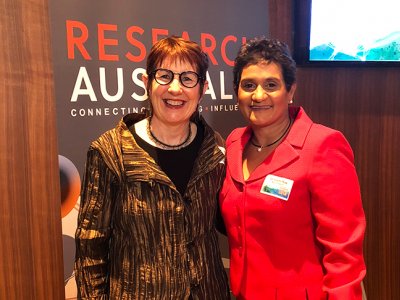 A devotion to closing the gap in maternity care for Aboriginal and Torres Strait Islander women has led to Professor Sue Kildea being awarded the Health Services Research Award.
The Research Australia award recognises significant contributions to translation of health services research and to improving the safety, quality and effectiveness of health care.
Professor Kildea is the Director of the Midwifery Research Unit, a collaboration between the UQ School of Nursing, Midwifery and Social Work, the Mater Research Institute-UQ and the Mater Health Services.
She has been involved in diverse projects from studies into continuity of care for Aboriginal and Torres Strait Islander mothers, to projects to increase access to maternity care for women in rural and remote locations.
"Supporting Indigenous women and their families by providing them with culturally safe maternity care, informed by Indigenous knowledge and community consultation, is at the heart of closing the gap in our nation's health services," Professor Kildea said.
"This recognition from Research Australia demonstrates the importance of translating knowledge into practice while also growing a culturally capable workforce.
"It is such a humbling achievement to receive this award, it really reflects the work of my fabulous team and is a credit to all of the Midwifery Research Unit."
Research Australia CEO Nadia Levin said Professor Kildea had inspired a growing national movement towards culturally safe maternity care.
"These translation milestones have shaped a key strategy to closing the gap in health outcomes among Indigenous women and children."
Professor Kildea has also been responsible for significant capacity building within the midwifery and Indigenous health research workforce through her mentoring of multidisciplinary researchers.
Her team of Indigenous and non-Indigenous researchers are widely regarded as Australia's leading Birthing on Country change agents.
The 2018 Health and Medical Research Awards were announced in Sydney on 8 November.