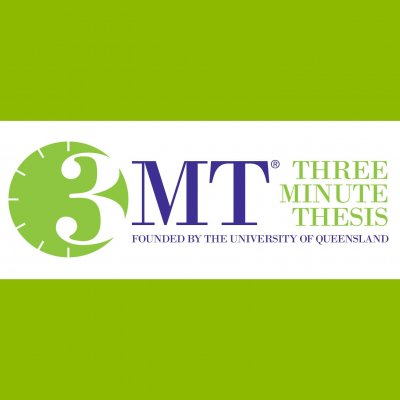 PhD students from the Faculty of Health and Behavioural Sciences will compete in the Faculty Final of the Three Minute Thesis (3MT®) Competition on Wednesday 7 August.
An 80,000 word PhD thesis would take nine hours to present, but students in the UQ 3MT® Competition will present their thesis and its significance in dynamic and informative presentations of just three minutes in length.
The winner will progress to the UQ 3MT® Final hosted by the UQ Graduate School on Wednesday 18 September at Customs House in the Brisbane CBD, and a chance to win a lucrative research travel grant.
The winner of the UQ Final will represent UQ at the Asia-Pacific 3MT® competition.
---

Sitah Al Harthi – School of Pharmacy
3MT title: The Antimicrobial Resistance Challenge
Sitah received a Master (2013) and a Bachelor of Pharmaceutical Science (2002) from The King Saud University. She is currently working on the treatment of superbug infections as a PhD student at The University of Queensland. Sitah works in the fields of pharmaceutical science, microbiology, drug delivery, and nanotechnology.
---

Grace Atkinson – School of Human Movement and Nutrition Sciences
3MT title: Snuffing out chronic disease
Grace is an Accredited Exercise Physiologist who has previously worked in both clinical and elite sporting contexts. She is now working toward completing her PhD within the School of Human Movement and Nutrition Sciences. Her research is focused on promoting healthy ageing through exercise prescription, to prevent chronic and neurodegenerative disease among older adults.
---

Sophie Cameron – School of Psychology
3MT title: Moral Balancing in Children
Sophie is a second year PhD student in the School of Psychology studying moral development in children. Her research is focused on how children form a complex understanding of morality, with the aim to one day apply this to encourage people to behave morally.
---

Oliver Canfell – School of Human Movement and Nutrition Sciences
3MT title: Can we predict to prevent childhood obesity?
Oliver is a PhD Candidate within the School of Human Movement and Nutrition Sciences and has been a Paediatric Dietitian with Children's Health Queensland for almost three years. After completing a Master of Dietetics Studies at UQ in mid-2016, Oliver was inspired to undertake a PhD after a "lightbulb moment". Oliver is now in the final year of developing a clinical prediction tool to help prevent childhood obesity and hopes its simple equation will help change the lives of thousands of children and families in Australia.
---

Silke Chalmers – School of Pharmacy
3MT title: Making the brain a no-go zone for breast cancer
Silke grew up in central Australia and moved to Brisbane to study Pharmacy at the University of Queensland. After working as a registered pharmacist for a few years, she returned to UQ to commence a PhD in the Calcium Signalling in Cancer Research Lab at the School of Pharmacy. Her research focusses on identifying therapeutic targets for patients with breast cancer brain metastases.
---

Georgina Clutterbuck – School of Health and Rehabilitation Sciences
3MT title: Becoming Sports Stars
Georgina is a Physiotherapist who has spent the last decade helping children with disabilities learn to move so that they can play, learn and grow. She has taught into paediatric courses at The University of Queensland and Griffith University, and is currently a lecturer at Charles Sturt University coordinating the Neurological Physiotherapy and Paediatric Physiotherapy courses for the inaugural cohort of Port Macquarie's Physiotherapy course. Georgina's research sits at the intersection between health, sport and education sectors and her goal is to bridge the gaps that prevent children with disabilities from participating in life-long enjoyable physical activity.
---

Joanne Hilder – School of Nursing, Midwifery and Social Work
3MT title: Developing a prioritisation framework for social worker referrals in an Australian tertiary hospital
Joanne has worked at Gold Coast Health since 2010, first as a welfare office and later as a social worker and allied health research officer. She is currently working as a research officer and undertaking her Masters in Philosophy at UQ. Joanne is interested in how social workers make decisions in practice and hopes her studies can inform change to clinical practice.
---

Genevieve Kieseker – School of Health and Rehabilitation Sciences
3MT title: Making Better Drivers - The Effects of Hazard Perception Training and Non-Invasive Brain Stimulation
Genevieve is a PhD Candidate in the School of Health and Rehabilitation Sciences. She graduated from a Bachelor of Psychological Sciences with Honours Class I before pursing her PhD. Genevieve's research focuses on how non-invasive brain stimulation can influence cognition.
---

Baboucarr Lowe – School of Dentistry
3MT title: Decoding a regenerative language to repair our relationship with life
Baboucarr completed his undergraduate training at the University of The Gambia, The Gambia, and undertook postgraduate training at Pukyong National University, South Korea. He was a postgraduate research fellow at the Skeletal Biology Research Centre, Massachusetts General Hospital and Harvard School of Dental Medicine, USA, and a visiting researcher in the Department of Bioengineering at Tokyo University, Japan. Baboucarr is specialised in the areas of stem cell, biomedical nanotechnology and tissue engineering/regenerative medicine.
---

Gianni Ribeiro – School of Psychology
3MT title: From trial and error to trials with error
Gianni is in the final year of her PhD in the School of Psychology, advised by Associate Professors Jason Tangen and Blake McKimmie. In her research, Gianni is determining how forensic examiners, such as fingerprint or bite mark examiners, should communicate their decisions and expertise to jurors in a way that is understandable to them.
---

Nimal Thattaruparambil Raveendran – School of Dentistry
3MT title: 3D cell printing- Future of regenerative dentistry
Nimal is a research professional with a Master's degree focused on Biotechnology from the National Institute of Technology Rourkela, India. He is currently pursuing a PhD in Bioengineering in the School of Dentistry at UQ's Herston campus.