Each month we shine the spotlight on a researcher within the Faculty of Health and Behavioural Sciences.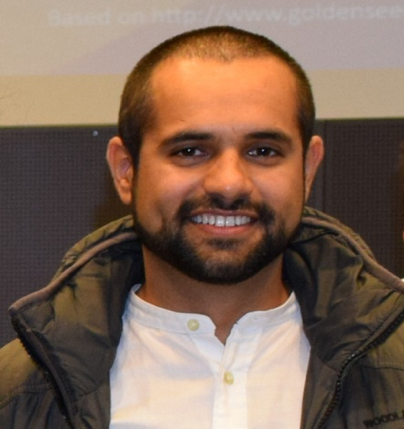 This month we caught up with Dr Tushar Kumeria, NHMRC Research Fellow from UQ's School of Pharmacy.
What are your key research interests?
My research is focused on smart porous nanomaterials, which offer unique structural, optical, and chemical properties. I am particularly working on electrochemically prepared sponge-like porous nanomaterials like porous silicon, nanoporous alumina, and porous/tubular nanotitania. I apply these materials in a range of applications including drug delivery, bioimaging, nanomaterials fabrication, and sensing of biologically and environmentally relevant analytes to improve our current healthcare and environmental technology.
Can you share some of your career highlights so far?
My career highlight is getting the opportunity to work at the University of California-San Diego with Professor Michael Sailor soon after completing my PhD in 2015. This time at UCSD tremendously advanced my research skills and knowledge, which are proving handy in running my research here at UQ. I returned back to Australia on a UQ Development Fellowship, which acted as a platform for me to receive NHMRC early career fellowship (ECF) in 2017-18. My current NHMRC ECF has provided me with the opportunity to strengthen my research and establish a track record as an independent researcher.
What aspects do you enjoy most about your career?
The most fascinating aspect of being a researcher is that you get to develop solutions for some of the toughest problems of humanity. This career throws new challenges at you every day and by overcoming these challenges you learn new things, which are only known to you (or your group) until you present the work at a conference or publish in a journal. How amazing is that!
Has your career taken you to any interesting, far-flung locations?
Travel is one of the perks of being in research. I have had an opportunity to travel and work at some of the finest institutions and travel to great cities (Adelaide, Brisbane, San Diego, and many others) of the world. My favourite city in Australia is Adelaide. Some might think, who likes Adelaide? Well! I do because I enjoyed my time in this peaceful and quiet city during my PhD and made great friends, who were key to completing the PhD in time and helped maintain a sane mind at the end of it.
What inspired you to pursue a career as a researcher?
As a kid, I loved to play around with electronic devices and opened them up to see what was inside and how it worked. So you can say, I wanted to be an engineer since the beginning. I developed an interest in materials science and nanotechnology from Professor Richard P Feynman's lecture "There's Plenty of Room at the Bottom: An invitation to enter a new field of physics". In this lecture, he very succinctly and beautifully talks about nanotechnology explaining how to fit an entire Britannica encyclopaedia on a pinhead. So, I pursued a Bachelor and Master degree in this field and continued to do a PhD in designing smart nanomaterials.
What advice would you give students thinking about a research career?
I would say "Smart, Go ahead!" UQ has great research resources and opportunities. UQ students can participate in Summer and Winter research programs to get a taste of what a career in research involves.
What are your interests outside of work?
I spend my free time reading about political and financial history. Currently, I am trying to teach myself to build IoT (internet of things) devices and 3D designing for 3D printing and prototyping of devices that we build in the lab. And on a sunny day, I enjoy my time with my wife hunting for good cafes around Brisbane and fishing.
What do you enjoy about living in Brisbane?
Brisbane is an amazing city with great people, quality food, and lovely sunny weather (but a tad bit too humid). My wife and I like to go for drives so, I like that there is very little traffic on the roads here and both, beautiful hills and ocean are within 30 minute's drive.