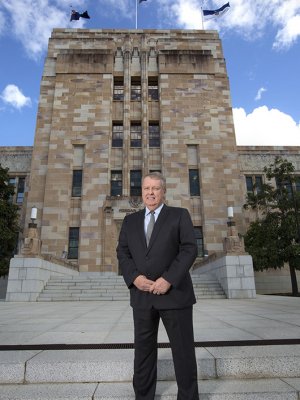 University of Queensland researcher, clinician, teacher and advocate for positive parenting, Professor Matthew Sanders has made a global impact on improving the lives of millions of families.
Director of UQ's Parenting and Family Support Centre (PFSC) at UQ's School of Psychology and founder of Triple P Positive Parenting Program, Professor Sanders was appointed an Officer of the Order of Australia (AO) in the Australia Day Awards.
UQ Faculty of Health and Behavioural Sciences Executive Dean Professor Bruce Abernethy congratulated Professor Sanders on his phenomenal career success.
"From starting his research at UQ more than four decades ago Professor Sanders progressed his academic career to become a world leader in the development, implementation, evaluation and dissemination of population-based approaches to parenting and family interventions," Professor Abernethy said.
"We are extremely proud of Professor Sanders for his dedication, focus and passion for demonstrating how evidence-based positive parenting can transform whole communities.
"His work has been widely recognised by his peers as reflected by a number of prestigious awards."
Triple P's population-health approach has been developed over nearly four decades and draws on the pioneering work of Professor Sanders which started from his PhD thesis in 1981.
UQ's main commercialisation company, UniQuest, and Triple P International enabled Triple P to be delivered in more than 25 countries around the world, in 22 languages, including Farsi, Japanese and Mandarin.
Professor Sanders and his team extended Triple P into a parallel system, Stepping Stones Triple P, developed for parents of children with disabilities.
More than 88,000 practitioners worldwide are trained to deliver Triple P programs that address a broad range of issues, including conduct problems, school bullying and childhood obesity and are available for families of children from birth to 16. 
Professor Sanders said he felt very honoured, surprised and humbled when he was told he would receive an AO for 'distinguished service of a high degree to Australia or to humanity at large'.
"What's most important to me about the award is the recognition that evidence-based parenting and family support is extremely important to raise children," Professor Sanders said.
"I believe it's the single most important thing we can do to promote the health, development and wellbeing of children.
"Good parenting is the 'clean water' of children's mental health, resilience and wellbeing.
"The success we have achieved in helping children and families has involved the collective effort of many people, including my research team in the PFSC and industry partners Triple P International who all believe in the vision of having quality evidence-based parenting support available for all families, everywhere.
"Also the support of my own wife, children and now grandchildren has been crucial.
"I love that I have the opportunity to lead a research team and be part of a research process that makes a difference to people's everyday lives."
See the full list of 2020 Australia Day Awards on the Governor-General's website here.
Media: Kirsten O'Leary, UQ Communications, k.oleary@uq.edu.au, +61 7 3365 7436; Professor Matthew Sanders, m.sanders@psy.uq.edu.au.