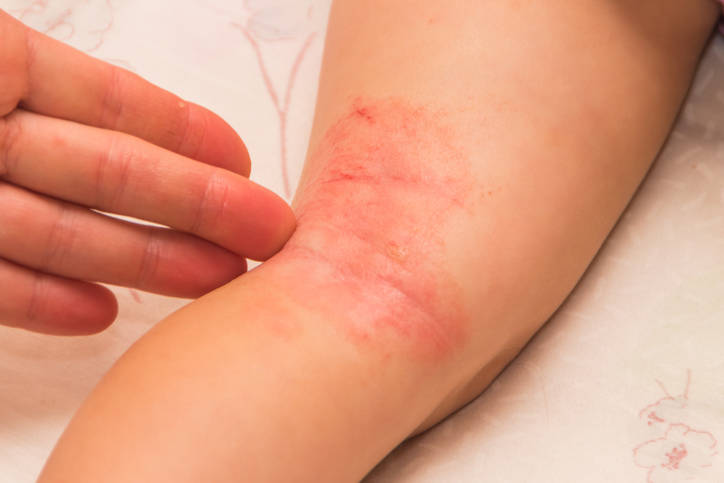 A program to help parents reduce the severity of their children's eczema will be tested by The University of Queensland.
Dr Amy Mitchell from UQ's Parenting and Family Support Centre said managing a child's eczema can be hugely challenging for parents.
"The Positive Parenting for Healthy Living program helps parents deal with issues that can often occur alongside eczema, like difficulties with children's emotions and behaviours, sleep disruption, scratching, and family stress," Dr Mitchell said.
"The first trial of the program resulted in extremely positive effects such as improved symptoms and behaviour of the children and an increase in confidence for parents in managing the condition.
"This trial will go a step further to find out whether the program can also improve the severity of eczema and how well it is treated."
Eczema, or atopic dermatitis, affects one in five Australian children and can be a source of ongoing misery for affected children and their families.
Treatment for children with severe eczema can take up to three hours per day, and sufferers can require hospitalisation to treat skin infections and to stabilise their condition.
"We hope that by combining this brief parenting support program with routine clinical care we can improve outcomes for children with eczema and their families," Dr Mitchell said.
The research team is looking for parents with children aged between two and 10 who have eczema and are currently prescribed corticosteroid creams or ointments (steroids).
Participants will be required to attend two interactive online Triple P parent discussion group sessions, and complete three online surveys and three eczema severity assessments over a seven-month period.
There are no costs associated with participation.
The study is a partnership between UQ's Parenting and Family Support Centre and the Dermatology Service at the Queensland Children's Hospital.
It is funded by the Children's Hospital Foundation.
More information is available from the project website or contact Dr Amy Mitchell on 07 3346 1202 or healthyliving@uq.edu.au.