UQ School of Pharmacy's Associate Professor Chris Freeman was interviewed by the Australian Journal of Pharmacy on study results that found pharmacists in GPs lowered hospital re-admissions.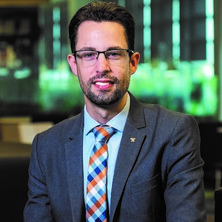 A randomised controlled trial has found positive results for pharmacists working in the general practice setting, according to a paper published on Monday in the Medical Journal of Australia.
The research team, led by Associate Professor Chris Freeman, recruited patients between May 2017 and March 2018.
Adults who had been discharged during the preceding seven days from one of seven public hospitals in Queensland were eligible if they:
had nominated a general practitioner in a participating general practice as their regular GP; and
had been prescribed five or more long-term regular medicines on discharge; or
had received a primary discharge diagnosis of congestive heart failure or exacerbation of chronic obstructive pulmonary disease—both conditions associated with high re-admission rates.
The intervention group received a face-to-face medicine management consultation with a pharmacist embedded in the general practice, followed by a consultation with their GP.