Student-athletes from UQ's Faculty of Health and Behavioural Sciences are among UQ's sporting best with 20 awarded 2021 UQ Sporting Scholarships.
UQ awarded 53 Scholarships in total worth more than $205,000 to 51 recipients, including Olympic and Paralympic hopefuls and representatives for Australian and Queensland sporting teams.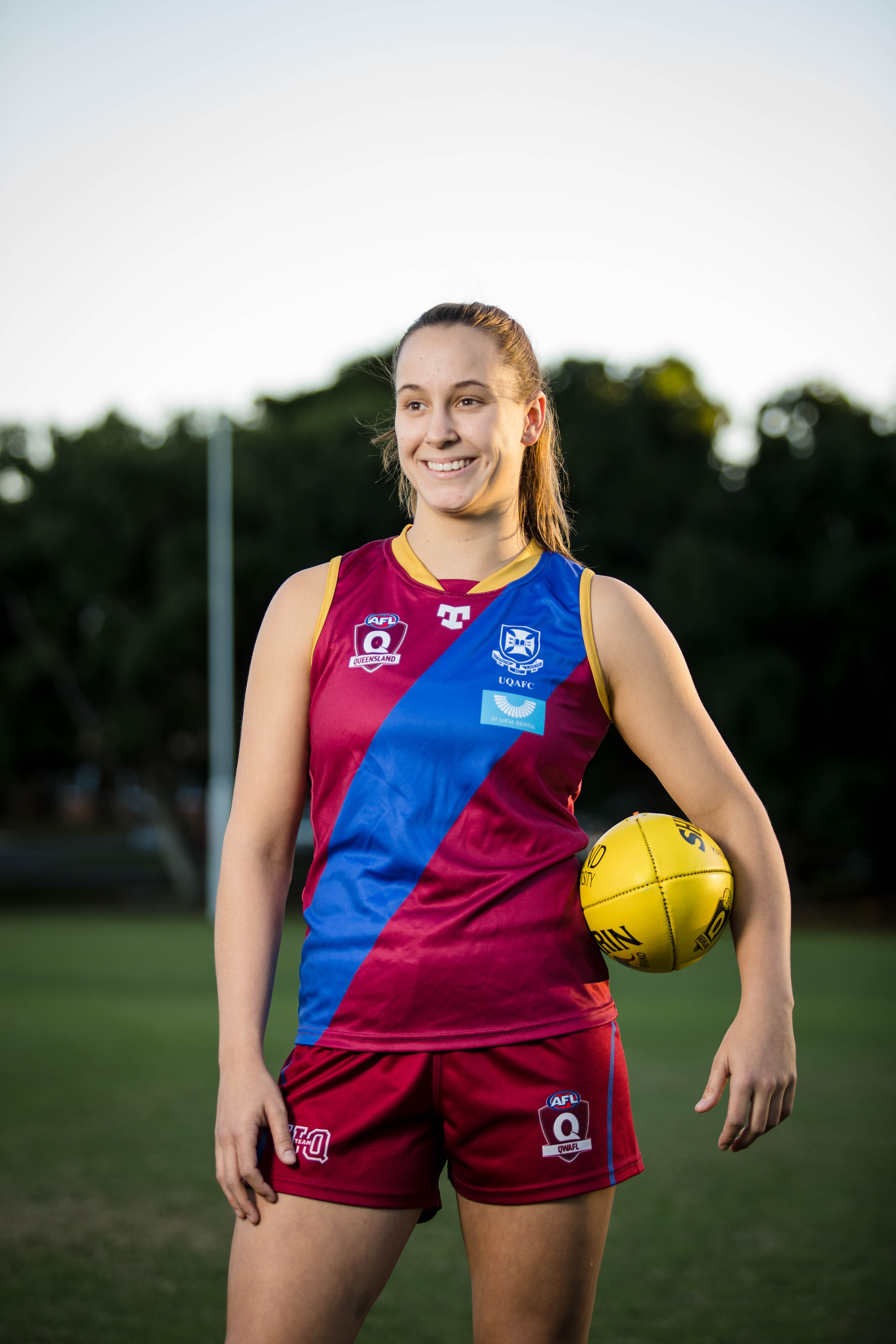 Scholarships included 20 new and 31 continuing students, with Health and Behavioural Science the most represented faculty. 
Among beneficiaries are Natalie Grider, Brisbane Lions' utility and Bachelor of Exercise and Sport Sciences (Honours) student and Gabi Simpson, Queensland Firebirds Captain and Bachelor of Physiotherapy (Honours) student.
A total of 25 sports are represented including swimming, water polo, water skiing, netball, gymnastics, rugby, cricket, football, hockey, athletics, orienteering and tennis.
Scholarship holders' benefit from access to UQ Sport's sporting facilities, as well as student-athlete workshops, academic liaison and tutoring delivered through the UQ Sport Elite Athlete Program.
Over the coming weeks, we'll introduce you to HaBS recipients on our UQ Health Instagram channel.
You can get to know these students, recognise them, and get behind them when it comes time to return to their respective sporting stage.
Meet this year's scholarship holders from UQ's Faculty of Health and Behavioural Sciences.
Sports Achievement Scholarship
| Recipient | Award | Area of study |
| --- | --- | --- |
| Caitlin Bettenay | Volleyball | Master of Physiotherapy Studies |
| Thomas Calvert | Squash | Master of Sports Coaching |
| Patrick Carrigan | Rugby League | Bachelor of Physiotherapy (Honours) |
| Jacinta Carroll | Water Skiing (Jumping) | Master of Physiotherapy |
| Jack Clayton | Cricket | Bachelor of Exercise and Sport Sciences (Honours) |
| Claire Colwill | Hockey | Bachelor of Clinical Exercise Physiology (Honours) |
| Rebecca Greiner | Hockey | Bachelor of Psychological Science (Honours) |
| Natalie Grider | Australian Football | Bachelor of Exercise and Sport Sciences (Honours) |
| Carina Hagarty | Gymnastics (Trampoline) | Bachelor of Exercise and Sport Sciences (Honours) |
| Tara Hinchliffe | Netball | Bachelor of Psychological Science (Honours) |
| Daniel Horsley | Rowing | Bachelor of Exercise and Sport Sciences (Honours) |
| Shemaiah James | Athletics | Bachelor of Health, Sport and Physical Education (Honours) |
| Kimberley Jenner | Netball | Bachelor of Health, Sport and Physical Education (Honours) |
| Lindsey Kiliwnik | Ice Hockey | Bachelor of Clinical Exercise Physiology (Honours) |
| Isabella Nasser | Rugby Sevens | Bachelor of Exercise and Nutrition Sciences |
| Himeka Onoda | Gymnastics (Rhythmic) | Bachelor of Physiotherapy (Honours) |
| Gabriella Palm | Water Polo  | Bachelor of Psychological Science (Honours) |
| Gabi Simpson | Netball | Bachelor of Physiotherapy (Honours) |
UQ Sport Ambassador Scholarship
| | | |
| --- | --- | --- |
| Alana Pacholke | Canoe Polo | Bachelor of Physiotherapy(Honours) |
Clem Jones Sporting Scholarship
| | | |
| --- | --- | --- |
| Cara Feain-Ryan | Athletics | Bachelor of Speech Pathology (Honours) |