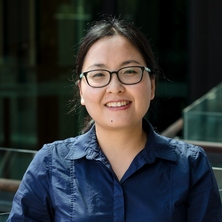 Dr Pingping Han, a postdoctoral research fellow from UQ's School of Dentistry was internationally recognised with an Osteology Advanced Researcher Grant from the Osteology Foundation in Switzerland for her work towards treating gum disease.
Combined with her previous research grant from the International Team for Implantology, Dr Han has received $150,000 in international grants this year, a phenomenal achievement for an early career researcher.
"It's an honour to receive international recognition and support for our research, which once complete means we are one step closer to treating gum disease," Dr Han said.
"Current treatments for gum disease are often ineffective and unpredictable, however our research has identified a way to help regenerate damaged gum tissues through what we call 'naturally occurring nanoparticles'.
"Nanoparticles are essentially 'mini-copies' of your cell that contain all of the important fingerprints of a parent cell.
"By using the nanoparticles found in healthy gum tissues, we can help regenerate damaged tissues which is something not currently achievable through clinical treatment."
Periodontitis, or gum disease, affects around 50 per cent of the global population and is the sixth most prevalent disease.
There is currently limited research into using nanoparticles to aid prevention of this common, chronic disease, which is one of the reasons Dr Han is turning heads.
"This method is also more affordable and stable as it is a 'cell-free' approach," Dr Han said.
"Cells are complex to work with as they are often difficult to store and scale up for an effective treatment.
"Alternatively, nanoparticles can be stored easily for years without incurring any damage to their components."
Joining Dr Han in this internationally recognised research are renowned senior researchers Professor Saso Ivanovski, Head of UQ's School of Dentistry and the Centre for Orofacial Regeneration, Reconstruction and Rehabilitation, and Associate Professor Carlos Salomon from UQ's Centre for Clinical Research.