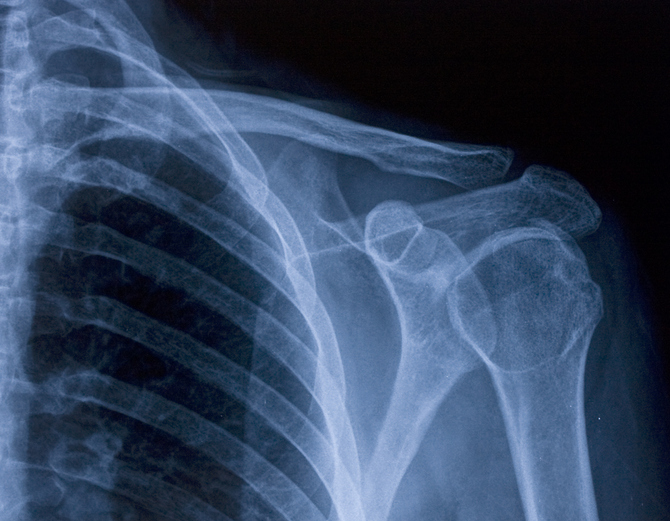 A new $1.54 million National Health and Medical Research Council funded research project will explore shoulder replacements to bring life-changing discoveries to those living with osteoarthritis.
The Australian team brings together researchers from The University of Queensland, Deakin University, UNSW Sydney, Monash University and The University of South Australia, including UQ's Professor Nadine Foster, Education and Research Alliance Director for the Surgical, Treatment and Rehabilitation Service (STARS), the new hospital within Metro North Health.
Professor Foster said the world-first research is highly relevant to Australia, which has seen a 338 per cent increase in shoulder replacements since 2008.
"Shoulder replacements for osteoarthritis has grown rapidly not just in Australia but around the globe," Professor Foster said.
"The surgery removes damaged parts of the shoulder and replaces the joint with metal and plastic implants.
"Despite growing demand for the surgery, it's unclear whether a Standard (Anatomic) or Reverse replacement is a more effective approach.
"Our research aims to examine the benefits, harms, and cost-effectiveness of these two key shoulder replacement methods."
The study will compare the two shoulder replacement methods in 450 patients aged over 60 who have shoulder osteoarthritis.
A bi-national study with collaborators in the UK and Australia, the UK and Australian trials will follow the same methods with the plan to combine the data in future meta-analyses.
Dr Jenny Setchell from UQ's School of Health and Rehabilitation Sciences is also part of the Australian research team.
Dr Setchell said there are key differences between a Standard or Reverse replacement, but they are yet to be robustly compared.
"Our aim is that this research will help surgeons and patients alike to make informed choices about what approach is best, especially as demand for these surgeries continue to increase," Dr Setchell said.
"This is critical research that aims to improve quality of life for people in Australia and across the globe who are living with shoulder osteoarthritis."
The trial team also includes Associate Professor Tracy Comans from UQ's Centre for Health Service Research as the lead health economist on the Australian RAPSODI trial.
At the head of the team and leading the study is Professor Richard Page from Deakin University, Director of Orthopaedic Research at Barwon Health, the Barwon Centre of Orthopaedic Research and Education (B-CORE) and Medical Director of the Barwon Health Bone Bank.
Media: Professor Nadine Foster n.foster@uq.edu.au ; UQ Communications Bridget Druery b.druery@uq.edu.au (+61) 7 3366 3037