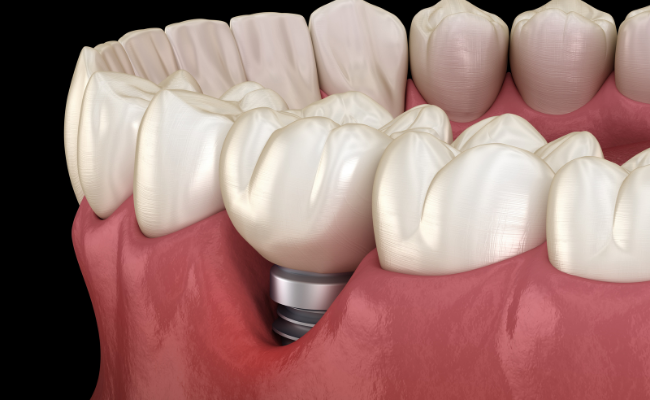 University of Queensland researchers are developing a new treatment using laser technology to improve the surface of dental implants and prevent implant failure.
Dr Abdalla Ali from UQ's School of Dentistry said this new treatment could prevent bacterial growth and biofilm formation around dental implants and help treat implantitis.
"Titanium implants are the most successful biomaterial for implants in the dentist industry, however some failures occur due to poor sealing," Dr Ali said.
"This means there is a greater risk of inflammation caused by bacteria in comparison to natural teeth, as the soft tissue attachment to the implants is less robust.
"We have successfully used micromachining laser technology to create microtubules on dental implants, which is a revolutionary step for dental technology.
"We have found it helps to prevent bacterial growth and biofilm forming around the dental abutment by allowing collagen fibres to vertically penetrate and essentially mimic natural tissue.
"These collagen fibres ensure a tight seal at the interface, forming a soft tissue barrier to prevent bacterial infiltration."
The technology will help to prevent disease such as periodontitis, which is the destruction of hard and soft tissues surrounding dental implants.
In Australia periodontal disease is a prevalent condition with almost 23 per cent of people over the age of 15 affected by moderate or severe periodontal disease.
"Soft tissue integration plays a crucial role in the long-term success of an implant and overall patient outcomes," Dr Ali said.
"When soft tissue is destroyed, we start to see the displacement or loss of dental implants.
"With around 400,000 implants placed each year, our study provides a new, viable concept to improve the surface properties of titanium implants to help reduce loss."
The team plan to take the research to clinical trials, for the next stage of their research.
The study is published in ScienceDirect.
Media: Dr Abdalla Ali abdalla.ali@uq.edu.au ; UQ Communications Bridget Druery b.druery@uq.edu.au +61 435 221 246.