When did you graduate from UQ?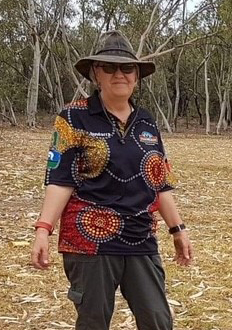 I graduated from UQ in 1976. This was the first year of 'no fees' in the Gough Whitlam era - we were a huge cohort, over 70 students. the Speech Therapy (as it was called then) department was not ready for so many ST students. I made life-long friends there. Coming from Hobart, I lived at Women's College for 18 months, then into rented accommodation.
What was your first job straight out of university? What was that like?
My first job was at Townsville Hospital. There were just two of us in Speech Pathology, and we were both new grads. We learnt a lot, covering adult and child in-patient and outpatients.
What is your current role?
Currently, I work in the Education Department in Hobart. The Department of Education sponsored me to go to UQ and I returned to work here in my second and third years out, in Burnie and Hobart. I feel as though I have come full-circle.
What made you want to study speech pathology originally?
I wanted to study speech pathology because it was a 'helping' profession. I originally wanted to work with children, but study opened up the world of working with adults, in fact, with all ages. 
Tell us about your career so far. What kind of roles have you had?
I have worked in health, education, in public and private practice, with all age groups. After working as a Clinical Educator at Sydney University in the early '90s, I completed a Master of Education (Hons) thesis at James Cook University, working in the local Indigenous community, including some volunteer work at Kindergarten Headstart.
I spent three years in the UK working in the north of England in the NHS 2006-2009. This involved working in schools and community-based clinic. I have since worked at JCU supervising Speech Pathology students in remote locations, in Mount Isa and Normanton, in North -West Queensland.
What has been the most rewarding aspect of your career?
The most rewarding aspect would be the satisfaction of making a difference to the lives of the individuals and families that I have worked with. Knowing that you have made a difference for an individual and family is huge. 
How has speech pathology changed since you entered the workforce?
It has changed in that it is now more evidence-based, which is reassuring for me as a professional and for the people I work with, knowing that what I do has been researched and that I am using the most effective interventions possible. My colleagues are equally motivated to use the most effective strategies that we can. There is so much information available now that we have to work hard to keep abreast of new ways of working - that has not changed - there have always been new advances to learn about. We are truly a profession of life-long learners.
Another change is that as a profession, we are more client-centred, or person-oriented. The concerns and goals of the client are what we aim to address.
Why would you recommend speech pathology as a career path?
I would recommend Speech Pathology as a career for anyone who enjoys working with people, problem solving to find out where their difficulty lies, and choosing an intervention or designing a program that will address their unique difficulties. Every client or case that we see is different, and the challenge is to work out how to help that person reach their goals.