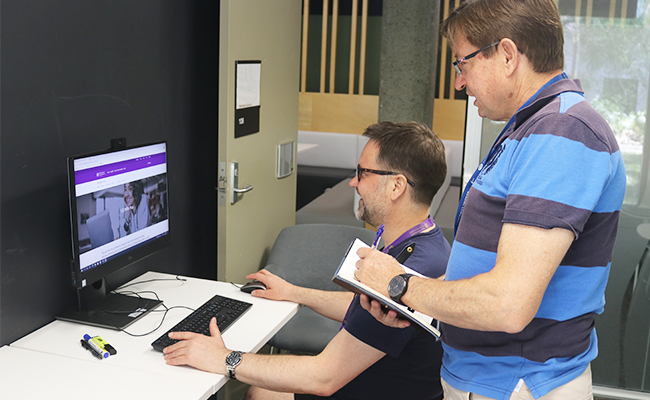 A free, easy to access telehealth counselling service is being delivered by The University of Queensland to address the exponential rise in mental health issues due to the COVID-19 pandemic.
UQ With You operates as a team-based, student-led model and has delivered over 650 sessions to 200 clients in its first two years.
Master of Counselling Lecturer Jim Schirmer from UQ's School of Nursing, Midwifery and Social Work said UQ With You provides tailored counselling services to the community via telehealth, with no need for a GP referral.
"The service is one of the only free, generalist counselling services available in the community," Mr Schirmer said.
"It provides people with support through life challenges such as grief, study or work-related stress, health challenges, relationship stress and mental health issues.
"UQ With You places an emphasis on person-centric care, designing treatment plans specifically for the individual in need.
"This starts with making sure the counsellor and the client are a good match, working together to find the best approach to meet a client's needs."
The service was developed in early 2020 after Master of Counselling students could not access their placements due to COVID-19 lockdowns.
At the same time, there was an increasing need for mental health support in the community.  
Master of Counselling Program Lead Dr Denis O'Hara said UQ With You provided a mutual solution to both problems.
"We began to think about ways in which we could connect the community with high-quality skills and knowledge of students, and the idea of a telehealth service was born," Dr O'Hara said.
"Along with implementing the counselling services, students operate a lot of the clinic's functions and are involved in collaborating on the direction of the service.
"In many ways, the success of UQ With You has predominantly been due to the dedication, creativity and diligence of the students who have been a part of the service."
UQ With You is a joint collaboration between the School of Nursing, Midwifery and Social Work and School of Psychology, delivered in partnership with the UQ Psychology Clinic.
The service is available to UQ students, as well as anyone in the wider community as an option for ongoing mental health support.
Media: UQ Communications; Bridget Druery, b.druery@uq.edu.au, (+61) (0)435 221 246, @UQHealth