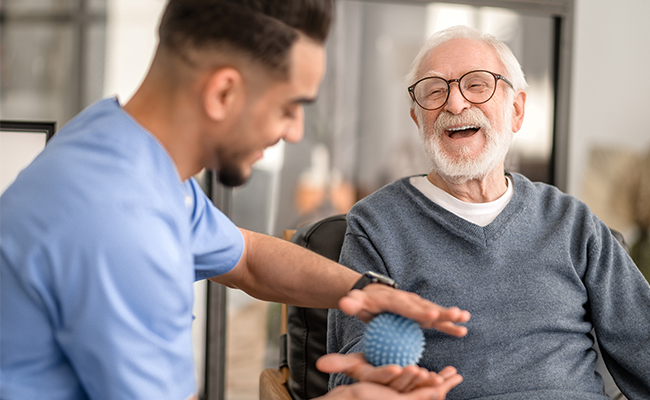 A partnership between The University of Queensland and Wesley Mission Queensland (WMQ) will enable the development of innovative training and research programs to address key issues within the aged care sector.
Director of UQ's Healthy Ageing Initiative Professor Nancy Pachana said the partnership was established to address the recommendation by the Royal Commission into Aged Care Quality and Safety to overhaul the aged care sector.
"This partnership will provide student placement opportunities, workforce capacity building, community engagement and research, in a unified holistic package," Professor Pachana said.
"We're looking to improve the experience of all stakeholders within the aged care environment, to ensure individual goals are achieved.
"By working together to provide solutions across education, research and service provision sectors, we have the opportunity to make real change.
"The partnership is a great example of UQ's work as an Age Friendly University, looking to positively influence policy, practice, and intergenerational engagement in this space."
Faculty of Health and Behavioural Sciences Executive Dean Professor Bruce Abernethy said he looks forward to seeing the outcomes of the collaboration.
"UQ academics will be providing their expertise to design training and research programs that will be integrated within services provided by Wesley Mission Queensland," Professor Abernethy said.
Wesley Mission Queensland Director of Governance, Performance and Outcomes Natalie Verdouw said with more than 85 years' experience providing care to older people, WMQ has always looked for innovative ways to ensure those in its care age well, with purpose and autonomy.
"This partnership will help improve customer outcomes and quality of care, as well as address the widespread workforce shortages facing the sector," Ms Verdouw said.
"We welcome the opportunity to help build a more skilled and sustainable workforce, recognising the essential role aged care workers play in our community.
"We are honoured and excited to be partnering with UQ as a renowned provider of innovative education solutions to deliver these much needed outcomes."
UQ became the first Age Friendly University in the Southern Hemisphere in 2020.
The UQ Healthy Ageing Initiative is a growing community of practice around healthy ageing, which includes research, curriculum development, student activities, and community engagement.
Media: UQ Communications; Bridget Druery, habs.media@uq.edu.au @UQHealth.