Interested in studying pharmacy? Learn more about the Bachelor of Pharmacy (Honours) at UQ and enjoy one of the highest graduate employment rates of any bachelor's degree in Australia.
---
I am a city girl who enjoys the hustle and bustle. I was comfortable where I was – in the city. But I wanted to do something out of my comfort zone. So, for my one month pharmacy placement, I decided to make use of the Rural Pharmacy Placement Allowance and head out to Lucy Walker Pharmacy TerryWhite Chemart in Goondiwindi.
Confession #1 
I thought I was going to regret travelling 350km to Goondiwindi because I thought I would be cleaning and filling up empty shelves all day. But, I was wrong.  
I worked closely with the pharmacists, intern and assistants. The pharmacists proactively asked what I wanted to learn and often called me into the consultation rooms to observe how a sleep apnoea test was conducted, what a telehealth session looked like and how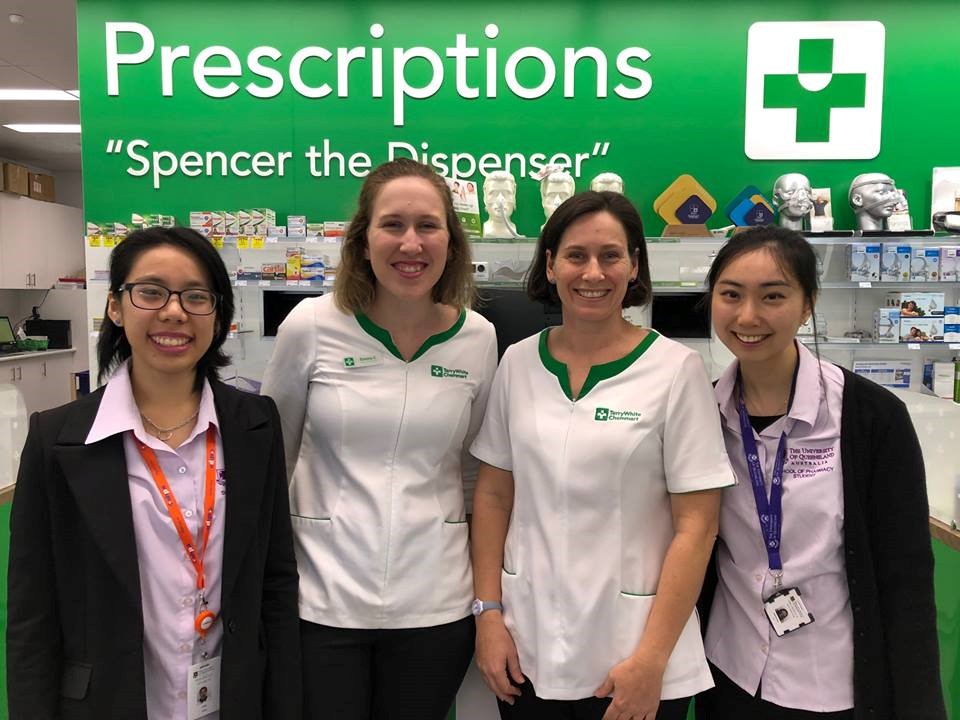 cholesterol testings were done in the pharmacy. I hardly stood around because I was either reviewing a patient's medication history for a MedsCheck, writing a Home Medicines Review draft report, liaising with doctors to establish treatment plans for patients or attending trainings delivered by sales representatives and clinical educators. The most memorable training was about taking a holistic approach in pain management because the knowledge gained from the training could not have been gained in class.
I also worked closely with 'Spencer the Dispenser'. Spencer is the robotic dispensing machine that saved me from singing ABCDEFG… all day long just to find the medication. It improves dispensing efficiencies and allowed more time for interacting with customers, to which I loved. They always appreciated the services and advice I provided. Many customers were farmers who loved sharing their stories about farming and how hard it was especially, during this drought season. Some farmers would come in and ask which medications they could stop to save money and buy hay for their cattle. Others came in with soaring blood pressure due to stress. Their hardship touched my heart so I decided to help with the Farmers Drought Appeal fundraiser the pharmacy had organised, which made me truly feel like part of the community.
Confession #2
I thought I was going to be bored and lonely, and I would not find good food  – untrue, at least in Goondiwindi.
Everyday when I walked home from placement, I would see a beautiful sunset. On the weekends, I would run around town or along the river which separated Queensland and New South Wales. The runs were quite enjoyable because the locals would often run as well. 
Good food was easy to find. They had supermarkets, pubs and various cuisines and surprisingly, McDonalds and Dominos. I spent most of my Saturday and Sunday café hopping, having delicious cakes and coffee, whilst, doing my evidence examples and placement diaries.
Other than the runs and café visits, Goondiwindi also has sports teams and a gym that offered body sculpting and cardio classes. If I didn't fancy doing anything too physical, I would shop in the small boutiques which sold local branded clothing and shoes. Goondiwindi also has a famous cotton tour and sometimes holds special community events.
So, I was never bored or lonely.
Confession #3
 I thought I was a pure city girl and that I would not miss the small town. Honestly, I miss Goondiwindi. Even though I was only there for one month, I shared uncountable laughs and hugs with the pharmacists, intern assistants and customers. It was truly an unforgettable experience.
Take home message
Take a plunge and do a rural placement because the experience is worth it.
Study at UQ
Find out more about the Bachelor of Pharmacy (Honours) at UQ.