Interested in studying audiology? Learn more about the Master of Audiology Studies at UQ and learn how to detect, diagnose and manage hearing loss.
---
What inspired you to become an Audiologist?
Growing up, I had issues with my middle ear. I developed hearing and speech difficulties as a child that required me to have tubes inserted into my ear drum, that helped with drainage and aeration of the middle ear. I chose Audiology because I wanted to help Indigenous Australians and our communities in a practical way. I felt audiology was a perfect fit because it allowed me to directly improve the ear health of Aboriginal and Torres Strait Islander people and advocate on their behalf as a population. There are only a handful of Indigenous audiologists nationwide and we need to change that! Indigenous audiologists helping Indigenous people hear better is strongly needed.
You don't have to come from a health background to study Audiology.
I studied Bachelor of Nursing and a Master of Mental Health Nursing prior to the Master of Audiology Studies, but studies in health, psychology, social, physical or biological sciences are suitable as well.The program is highly theoretical, which was great because it helped me establish a strong clinical understanding that served me well for my internship. There are placements throughout the program as well that help you to implement what you're learning in a practical hands on way as you go.
The Audiology community is close-knit.
The best thing about the masters program was the small class size of about 30 students. It was very intimate and our class was, and still is, very close. We also had great accessibility to the lecturers and tutors, which was fantastic.
Hearing loss and ear dysfunction is extremely common in Indigenous Australian children.
I see my role as trying to prevent the long-term effects from prolonged middle ear disease that Indigenous Australian children suffer and its impacts on language and communication. Hearing loss and middle ear disease is extremely common in Indigenous Australian children. At any given time, up to 90 per cent of Indigenous Australian children in remote communities may be experiencing ear infections. It has lasting health, social and wellbeing implications. The language and communication problems resulting from early and long-term  ear disease and hearing loss affect learning and school engagement, lower literacy levels, employment options and is associated with increased contact with the criminal justice system.
Every day is different.
I normally have a full day of clients that comprises of hearing tests, hearing aid fittings, and follow up appointments. I see children, adults with complex communication needs and both Indigenous and non-Indigenous Australians. I also fit bone-anchored hearing aids. The great thing about my job is being able to work with diverse clientele.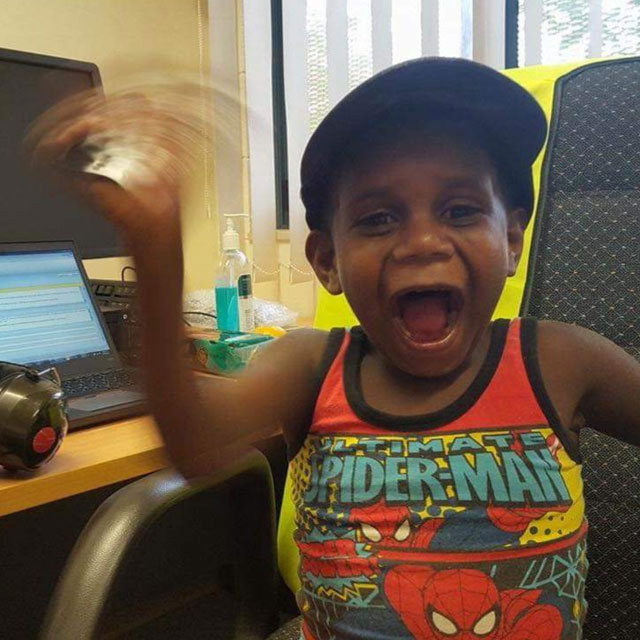 I have a passion for working in Indigenous communities.
I am thankful that I was able to pursue audiology. I know that I have a positive impact on my clients on a day-to-day basis. However, it is doing remote outreach work in Indigenous communities that I am passionate about. I love telling the story of a little boy from Mornington Island and how we were able to help him hear more effectively. He had a hearing loss caused by an ear infection. We fit his first bone-conduction hearing aid, disguised as a hearing hat!  As soon as we turned it on, his eyes lit up and he had a big cheeky grin on his face and I knew that he could hear well! He could follow directions at school and was able to listen to mum and his family. He is a very good user of his hearing hat and without the hearing hat he felt lost.
Apply for the Australian Hearing Aboriginal and Torres Strait Islander Master of Audiology Studies Scholarship.
Australian Hearing, in partnership with UQ, has established the Australian Hearing: Aboriginal and Torres Strait Islander Master of Audiology Scholarship. This Scholarship recognises and supports Aboriginal and Torres Strait Islander students enrolled in the Master of Audiology Studies at UQ.
The Scholarship is valued at $15,000 and will be paid over the two years of the program. Including an expenses paid one week remote Aboriginal and Torres Strait Islander Services Outreach trip with Australian Hearing Audiologists, to be undertaken in year two of the degree.
Find out more information about the scholarship.
Study at UQ
Find out more about the Master of Audiology Studies at UQ.