Reflections on my midwifery placement in India
Interested in studying midwifery? Learn more about the Bachelor of Midwifery at UQ and develop your professional skills in providing care, education, support and advice to expectant mothers and parents.
---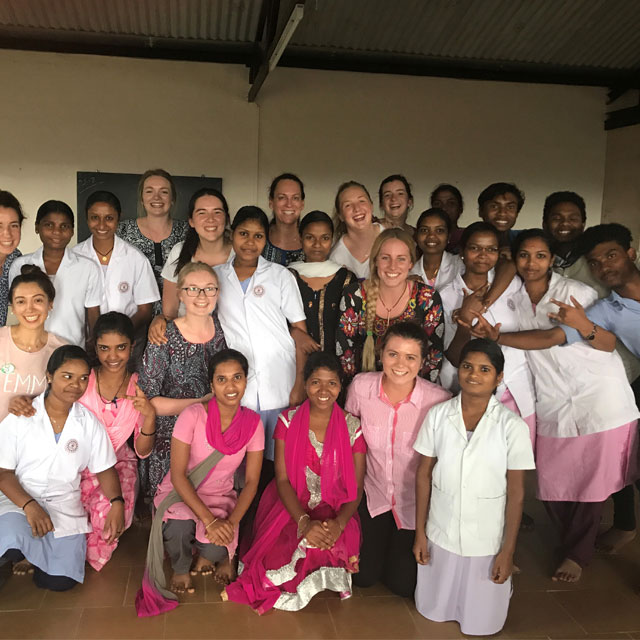 Indian novelist Anita Desai once said "wherever you go becomes a part of you somehow".
This rung true for me after spending a month in India for my midwifery placement. It is such a culturally rich and diverse part of the world, with a multitude of sights, smells, tastes, faces and places.
I was given the incredible opportunity to complete my midwifery placement in rural and metropolitan India during September/October 2017. 
The first portion of our trip was spent exploring the bustling city of Bangalore, where we were welcomed by our host Augustine Ullatil, who has been heavily involved with social work students from UQ for several years.
Week one came and went, after travelling to the rural town of Gudalur where our placement at Ashwini Adavasi Hospital began. This small town in the state of Tamil Nadu, was a breath of fresh country air and was gladly welcomed after the hustle and bustle of city life.
This hospital is staffed with tribal people from multiple villages in the area, run by leading surgeon Dr NK and gynaecologist Dr Shyla. It is one of the most sought-after hospitals in the Gudalur Valley by tribal and non-tribal people. The hospital delivers care ranging from disability and sickle cell disease management, community health to education through the school of nursing and vocational training (such as lab technicians and administrators).
The students at Adavasi work mostly independently during their continual placement at the hospital, up to seven days a week, and most of them speak a minimum of three languages.
The majority of the student nurses spoke excellent English and welcomed us so kindly. We were especially encouraged by their sense of responsibility and confidence in clinical practice.
Our time on placement consisted of rotations through the lab (testing for sickle cell, tuberculosis, etc), procedures in the operating theatre, general medical/surgical  wards, emergency and outpatient wards, dentistry, and the labour ward. During community health visits we assisted health care workers with distributing basic medications, monitoring and treating children for malnutrition, as well as screening for hypertension and diabetes.
From observation and participation in the monthly tribal meeting by founding organisation Accord, this community health care system appears to be extremely effective in the villages; catering to the tribal people and their families.
It was evident that there are many similarities in behaviours and issues of tribal people in rural India and Indigenous people in remote Australia. Witnessing their successful approach to health care was encouraging, and a gentle reminder that to effectively cater to an Indigenous population, it is necessary to come from an attitude of understanding, compromise and inclusion of their own population in health delivery.
Bitter sweet goodbyes from our new friends in Gudalur were quickly replaced with the beeping horns, weaving tuk tuks, captivating sights and somewhat interesting smells of Bangalore. St Philomena's Hospital, our base hospital for the remainder of the trip, was run by Catholic Nuns, many of whom live in the attached convent. This was quite a contrast to what we had experienced in rural India.
There were many similarities to the large, tertiary hospitals in Australia, and we met so many incredible doctors, nurses, leaders in education and dedicated students. We were grateful to once again experience the full range of nursing and maternity, including the operating theatre, neonatal intensive care, paediatric intensive care, antenatal, postnatal and labour wards, emergency and outpatient departments.
Although the focus of the trip was intended to be a midwifery placement, it was extremely valuable to experience all areas of the hospital to gain a deeper understanding of how the procedures, ethics and values of St Philomena's are implemented.
The experience of birth in India is quite different to what we know and have learnt in our clinical areas in Australia. One of the biggest learnings for our group was the focus and importance of woman-centred care, in order to promote independence and confidence, and to empower women in their pregnancy and birth.
It was a privilege, as foreigners, to be able to step into the intimate and vulnerable moments of these women's lives, to encourage, witness and assist in their birth journey, even if just through the universal language of a smile. 
I am so grateful for the opportunity that I had to travel to India with UQ, and trust that the experiences, moments and lessons I learnt will carry with me well into my future career.
My preparation for this trip assisted me with knowledge to provide culturally appropriate and sensitive care to women and their families, while improving my skills in evidence-based clinical judgement and appreciating the high standard of the Australian health care system.
In reflection, four weeks in India not only helped me reach these goals, but exceed them, and return with a new set of valuable, unique skills and experiences.