Taking health education to the Indian Ocean
Interested in studying exercise physiology? Learn more about the Bachelor of Clinical Exercise Physiology (Honours) at UQ and learn how exercise can treat a range of health conditions and injuries.
---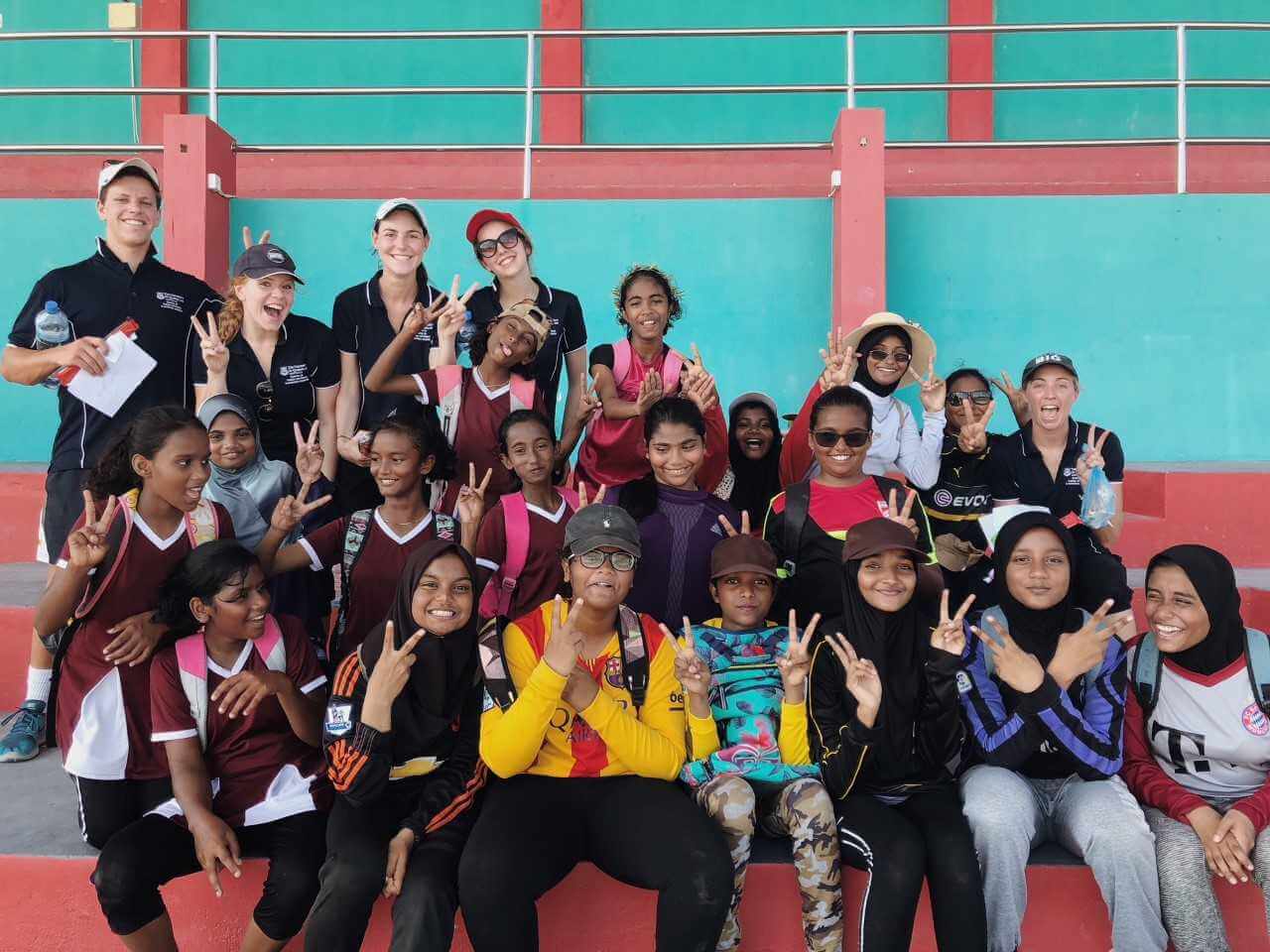 This international placement was designed to support students' learning in the Bachelor of Exercise and Sport Science and the Bachelor of Clinical Exercise Physiology by improving their understanding of issues related to cultural diversity and the prescription of exercise, to help them build meaningful networks, gain cross-cultural leadership and team work skills, and learn to address complex issues with a global perspective.
Students worked predominantly within one community, on an island called Hithadhoo which is the second largest settlement in the Maldives, situated in the Addu Atoll (southern-most atoll of the Maldives).
What was the purpose of the trip?
Kara - The purpose of the trip was to take our knowledge and skills in exercise, sport and nutrition, and apply them to a different population that doesn't generally have access to the same information.
Claire - It challenged us to apply our knowledge in an environment that is extremely unique and different to anything that you could experience if completing prac in Brisbane. It tested our communication abilities and problem-solving skills, and targeted the exploration of exercise in countries with different social and cultural expectations. Overall, we were there to promote exercise and its benefit to health and wellbeing. As a student partaking in this experience, you are there to share your love of exercise and to encourage sustainable programs for the community.
What were your thoughts before you left Australia?
Charlotte - Prior to leaving I only knew a few members of the group and I was nervous but eager to meet the other students travelling with me. I had never travelled to a Muslim country and whilst I had read about this different customs and dress code, I wasn't sure to what to expect.
Kara - Something along the lines of 'why am I doing this!' I was nervous about going away for three weeks to a place I didn't know much about, with a group of people I barely knew, undertaking activities in a new environment. However, I was very excited about trying something different and taking the unique opportunity to do it for prac. I think the fact that so much of it was flexible made it more exciting, as I had no real expectations.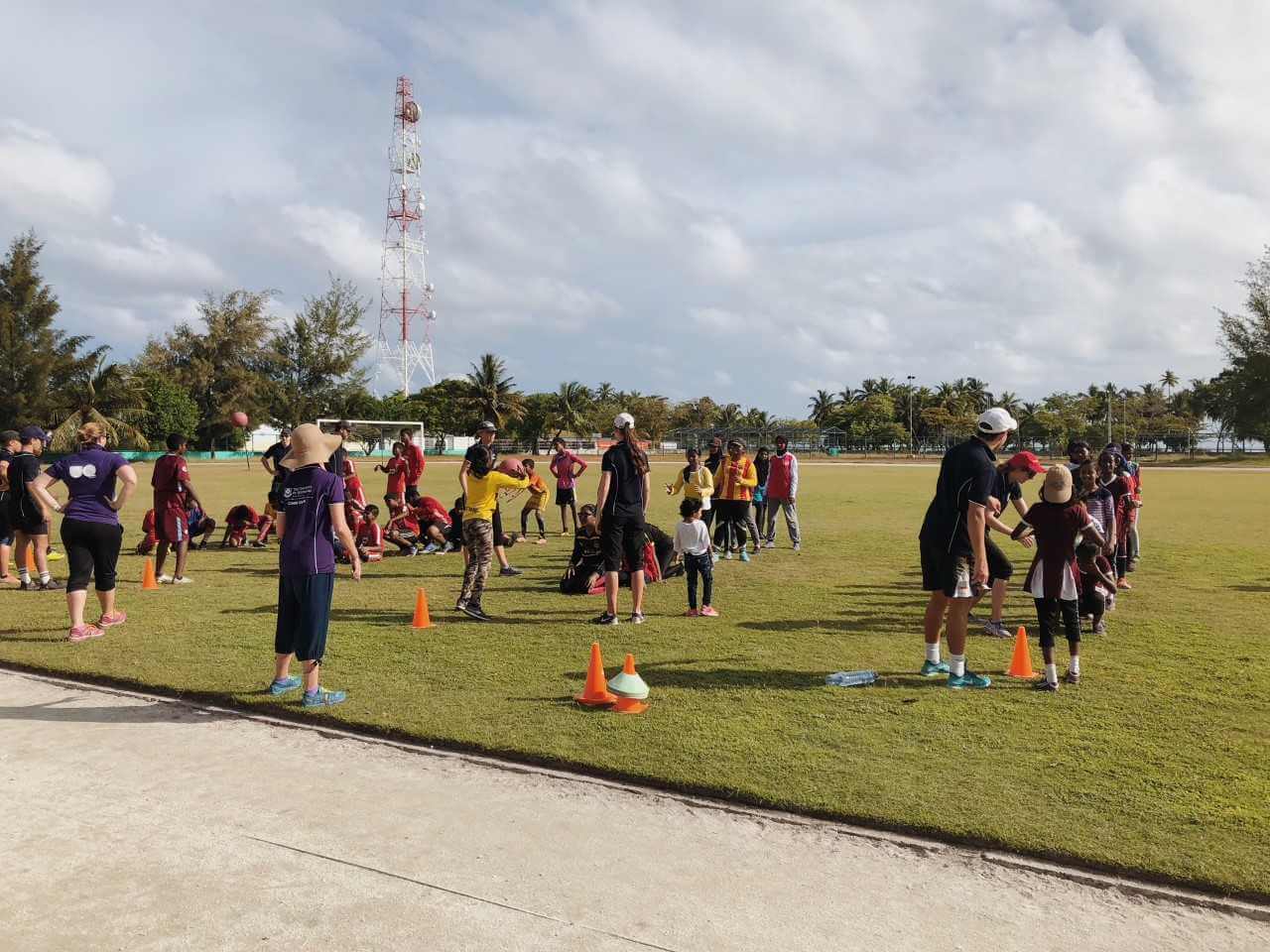 Kelly - I didn't know what to expect initially, I just thought it would be an amazing opportunity to see another part of the world while doing something that I'm passionate about. And it was just that - the Maldives and its people were so lovely, and getting to use the skills you've developed over the past 3 years at uni was an added bonus which made it so enjoyable. 
What types of things did you do on placement?
Dr Emma Beckman - Students took part in planning exercise programs for a wide range of community members; there is a significant number of Maldivians who cannot swim so the students implemented exercise programs for water safety and confidence, and aquatic exercise for strength, cardiorespiratory fitness and flexibility. They worked with both children and adults in the aquatic environment. There is a low rate of participation in sport and physical activity in women and girls in the community so the students did some health education for this group as well. They also developed education around sports injury and first aid for local coaches and trainers.
Claire - You don't normally get the opportunity to deliver in depth education sessions with a client. On this placement, 2 hours of each day were allocated to group sessions with clients with a goal of prescription/programming delivery, CPR, first aid and general exercise education. This provided us with the opportunity to refine our communication skills and client interaction skills. For every task delivered, we always aimed to explain to the participants why we were performing this in order for them to understand the purpose. This is extremely important in the future when working with clients for maintenance and long-term participation in exercise.
Zoe - I had the opportunity to learn how to adapt to an environment very different to home. There was a lot of thinking on your feet and modifying on the spot which was very valuable and is a skill I will utilise back in Australia.. Above all, I learnt to be grateful for what I have and to never underestimate myself.
Craig - One of the biggest lessons I learnt was that prescribing exercise to kids can be vastly different to older clients. Before this placement I didn't have much experience with kids and I had to quickly adapt my approach to achieve better outcomes. My exercise prescription has improved and I have learnt how to modify exercises when considering a lack of equipment.
What kinds of experiences did you have outside of your placement?
Craig - We had three weekends that were free for us to explore the Maldives. We visited an uninhabited island, snorkelled, went to one of the resorts and spent a weekend fishing. I thoroughly enjoyed meeting and getting to know the locals. They were all incredibly friendly and were interested to find out what brought us to the Maldives.
Byron - The experience in the practical environment offered many hurdles that we learnt to overcome. Developing the patience to teach young kids how to play football for extended periods, and teaching adults with very broken English how to swim was challenging but also incredibly rewarding and truly an experience you cannot get anywhere else. I would recommend this trip to anybody looking to go beyond what they can get in Australia.
Study at UQ
Find out more about the Bachelor of Clinical Exercise Physiology (Honours) at UQ.