University can be a bit of a whirlwind of study, socialising, setting up home and, for some, working part-time. So looking after yourself is so important. It's easy to underestimate the effect that our sleep, diet and daily routine can have on our mental health.
To help you maintain a healthy headspace whilst at uni, try adopting these five healthy habits.
A survey of 234 UQ undergraduate students showed over 90% were aware of the link between healthy habits and mental health. However, only around 50% of these students regularly adopted healthy habits to protect their mental health.
1.  Connect with others
When you start uni, you're surrounded by people. And yet, making new friends and finding where you belong can be difficult. You may feel lonely having moved away from home for the first time, or miss your old friends or your old routine. These are all normal feelings, and its likely other students are feeling the same. You don't however want these feelings of loneliness to stick around like a bad smell. Loneliness can be hard on you and your mental health!
A recent study of 1239 university students confirmed that loneliness and university belonging were significantly worse during the first year of COVID-19 compared to the following two years.
The good news is that making a habit to 'connect with others' can help cure feelings of loneliness and ultimately have a positive impact on your mental wellbeing. Even if you don't feel like it, make plans to be around others – join societies or groups, have dinner with flatmates, chat to people in your tutorials or zoom chat or try volunteering. The companionship will lift your mood, and reduce feelings of isolation.
Just remember, you are not alone. And if ever you feel in crisis, help is at hand. Check out the useful resource at the end of this article or enrol in the Groups 4 Education online course that's offered to first year UQ students as part of the Sharper Minds package.
2.  Get physically active
People know that being active is good for your physical health and fitness, but do you know it helps memory and cognitive function too? This happens through direct biological effects on your body and brain, and indirectly through the benefits of physical activity on your mood, anxiety, and sleep quality.
Find something active that you enjoy doing and commit to doing it several times a week. Add more incidental activity such as taking the stairs instead of the lift and walking to the train station instead of driving. Finding 30 minutes to move is only 2 per cent of your day and you will reap all the health benefits.
If you're not sure where to start, check out the Fit 4 Study online course that's delivered by UQ Physiotherapy and Exercise Physiology students as part of the Sharper Minds package.
3.  Refreshing sleep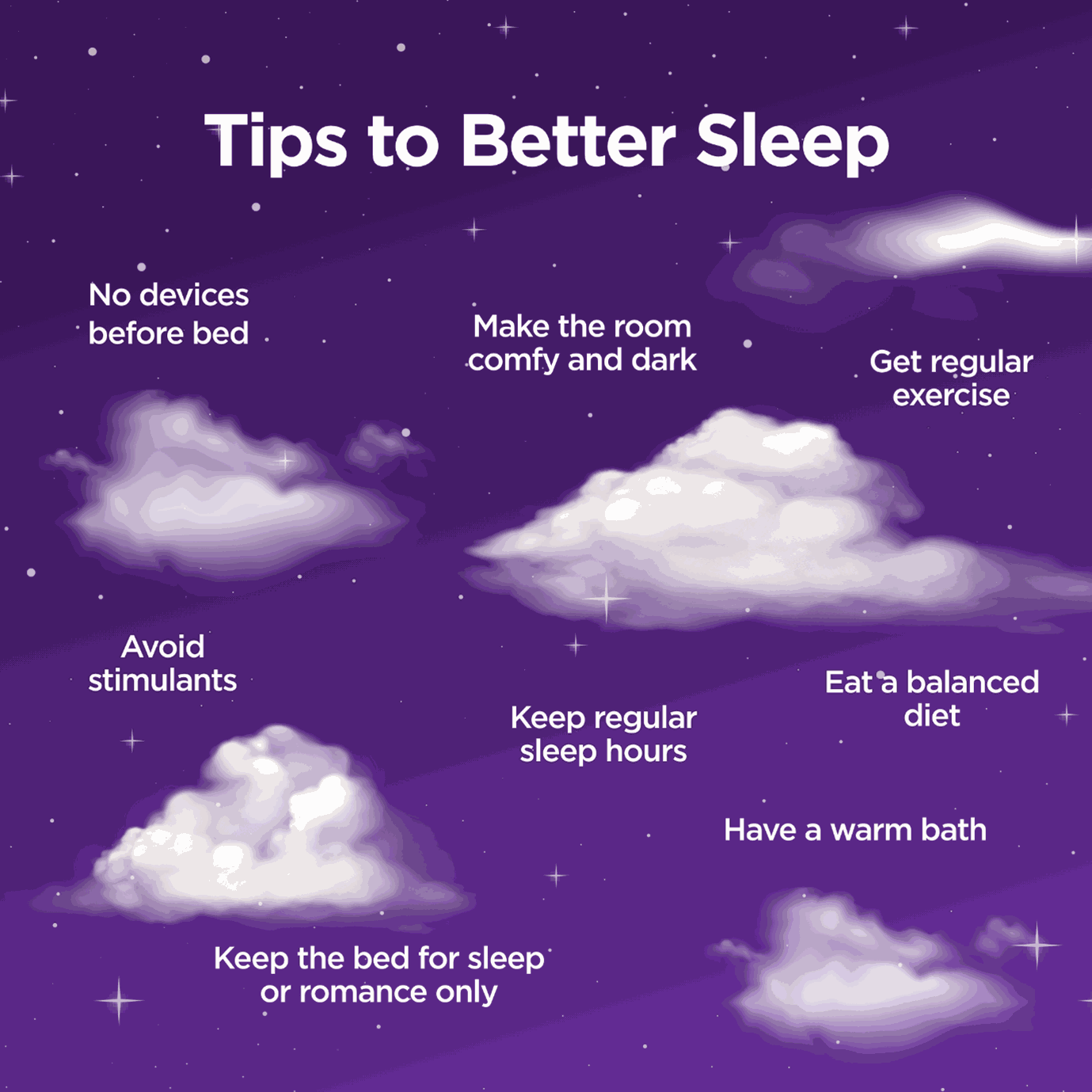 Don't stay up too late — you need 8 hours of sleep to power through the day! Sleep problems and daytime fatigue are common in university students, and these can prevent you from learning and retaining new information. On the upside, if you consistently get good quality sleep you will perform better academically.
Check out the Better Sleep online course delivered by postgraduate UQ Psychology students as part of the Sharper Minds program.
4.  Eat a balanced diet
University students are well-known for skipping meals or leaning towards poor dietary choices. When things get busy with assignments and other commitments, you can rely too much on instant noodles or takeaway foods that are not the most nutritious. A balanced diet helps your brain function optimally and keeps you healthy for study and life throughout semester. Check out these simple tips on how to swap out unhealthy eating habits for healthier ones.
If you're still not sure about where to start, enrol in the Food for the Brain online course delivered by UQ Dietetics Studies students as part of the Sharper Minds program.
5.  Mood regulation
It's no surprise that negative moods like anxiety, depression and stress get in the way of student learning. Why? Because they divert your attention and decrease your motivation and use of learning strategies. Working to your strengths and developing some emotion regulation strategies will help you to keep calm and positive during these challenges.
Need a little help? Check out the GRUNT online course that's offered to first year UQ students as part of the Sharper Minds package.
Finally, know that you're not doing this alone! There are plenty of avenues of support you can turn to, including a range of programs and counselling services offered at UQ to help support students' health and wellbeing.
We hope these tips help you enjoy the best university experience possible whilst living a happy and healthy life.