What inspired you to study pharmacy at UQ?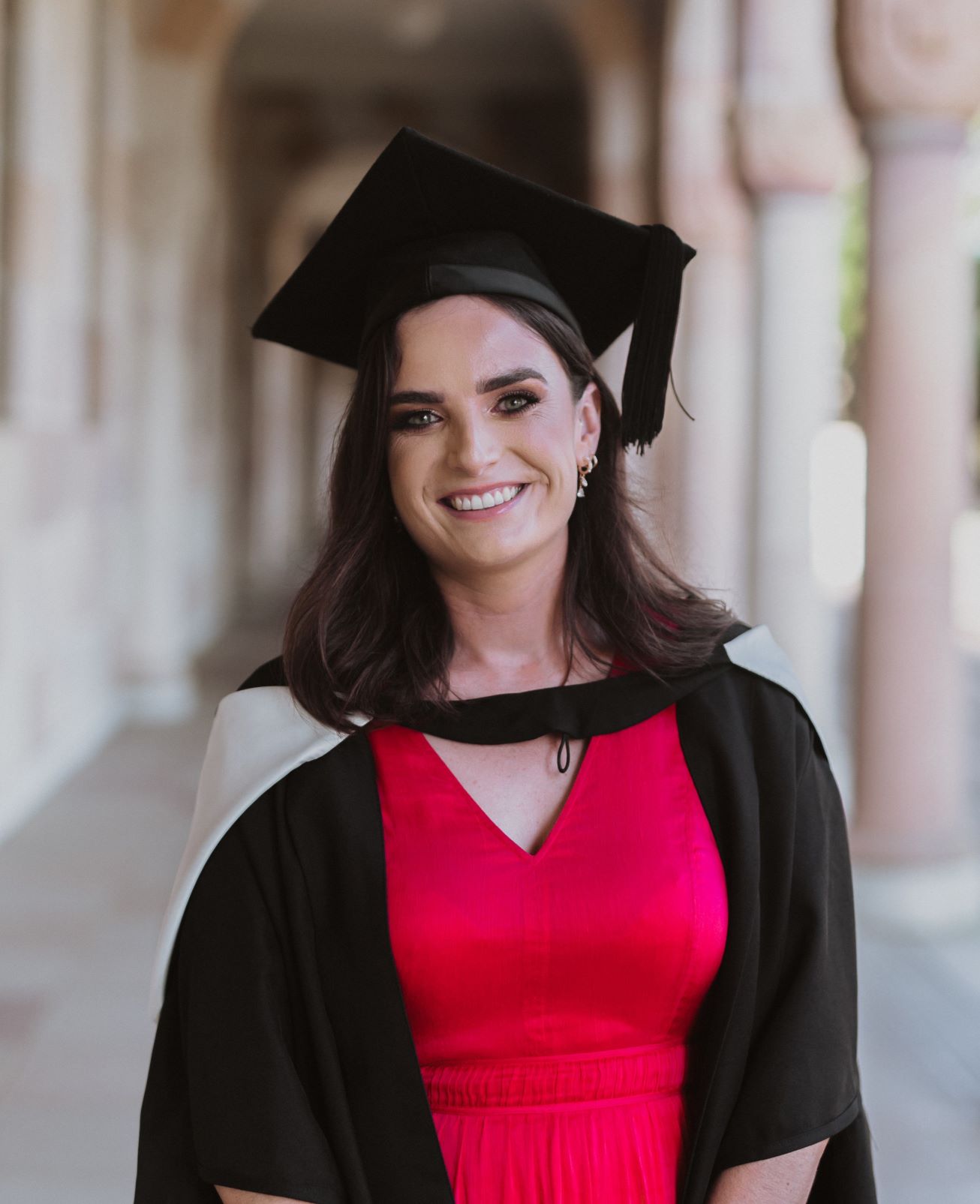 As someone with two neurodivergent brothers, a healthcare career was something I wanted to pursue from an early age. Pharmacy is a great balance between clinical knowledge and patient-centred care, and I've found it to be a very rewarding career path. We are the medication experts, often bridging the gap to optimise a patient's care, listening to their needs whilst advocating for the safe and judicious use of medicines.
Fundamentally I love talking to patients, enabling them to advocate for their healthcare needs and improving health literacy. Studying at UQ was a no-brainer for several reasons, including The Pharmacy Australia Centre of Excellence (PACE) building and more specifically the Health Sciences library, which has become my unofficial second home during my 4 years at UQ.
What has been your most memorable moment at UQ?
I can't choose one! There are quite a few moments that stand out to me for different reasons but here are my top 3:
Representing my pharmacy peers at both the state and national level in various organisations, as President of the Queensland Pharmacy Students' Association (QPSA) and Executive Director (Treasurer) of the National Australian Pharmacy Students' Association (NAPSA).
Becoming the first pharmacy student elected to an executive position (Vice President of Campus Culture (Clubs & Societies)) in the University of Queensland Union (UQU) 111-year history, which is the largest student representative body in Australia and the Southern Hemisphere. 
Representing Queensland in the national final of the Pharmaceutical Society of Australia Pharmacy Student of the Year Award and being selected as UQ's candidate for the Professor James Dare Queensland Pharmacy Graduate of the Year Award.
How did you manage to balance your study, work and other extracurricular activities?
I've found that there's no magical formula to finding the perfect balance, though admittedly through trial and error I've found what works for me! Here are my top 3 tips:
A simple but effective tip is to make your bed each morning, it's an easy way to start the day motivated and off to a great start!
My note-taking style has changed significantly during my time at UQ, I've changed from time-consuming handwritten notes to using Anki, Obsidian and One Note (which I wish I knew about sooner!)
Minimise burnout by scheduling time for self-care, something I would often forget to do! Giving yourself downtime to recharge is so important to maintain a well-balanced lifestyle.
What drove you to become such a high achiever?
I was involved in national-level sports from an early age, in which most mornings I'd be up at 4.30 am for training, then off to school, then back to training in the afternoon for 6 days of the week. I loved what I was doing and so dedicating a significant amount of time to something I was passionate about never felt like a burden. This experience taught me important transferrable skills which I was able to apply to my tertiary studies and extracurriculars. If you're doing something you're passionate about and are willing to apply yourself the world is your oyster.
Would you like to share any major obstacles or hardships you have overcome throughout your studies?
Both of my parents have life-threatening health issues, in which they have been hospitalised several times for prolonged periods due to complications. This has been incredibly difficult to deal with and has required a great deal of strength and resilience to continue with my degree at times.
I'm incredibly grateful to have my family, friends and the UQ pharmacy staff, who encouraged me to persevere and have been the biggest cheerleader in my successes, it is a great honour to be the UQ School of Pharmacy valedictorian.
What are you most passionate about?
A passion of mine is to continue to advocate for the pharmacy profession as an early-career pharmacist and beyond, as I believe pharmacists are still undervalued in the healthcare setting. Pharmacy is a constantly evolving profession, and it's up to us to shape and elevate its growing future.
I've loved being involved in various committees during my undergraduate studies and wish to continue working with pharmacy's professional organisations and the UQ School of Pharmacy to support change and give back to my patients and the wider community.
What do you believe it takes to become valedictorian?
For me, five words come to mind - Hard work, passion, perseverance, and resilience.
I believe that the valedictorian is someone who works hard to achieve their goals and to be their best self. They are passionate about their field of study, preserve in adversity, are resilient and always willing to take a leap of faith to explore opportunities for growth and change.
What does being awarded valedictorian mean to you?
It is the greatest privilege and honour to be awarded valedictorian. It isn't something I thought I would ever achieve when I started my journey at UQ, and I feel incredibly grateful that years of hard work have been recognised in this way by my school, faculty, and peers.
This recognition is symbolic to me for many reasons, it represents the hurdles I have had to overcome throughout my degree and is a reminder that if you have the right mindset and surround yourself with the right people, no challenge is too great.
What advice would you give to current and future UQ students?
My three pieces of advice:
Always say yes to opportunities: There have been many moments in my university journey when the thought of entering a pharmacy competition judged by leaders in the field or going for an executive spot on a committee absolutely terrified me, but you never know unless you try (and you might regret not having a go) – so just go for it!
Engage with your peers and the profession early: go to networking events, join some clubs and societies, and volunteer for an organisation or two – this will help immensely when it comes to growing your soft skills and securing your dream graduate job.
Surround yourself with people who inspire and encourage you to grow and never be afraid to ask for help.
What's next for you?
Moving into 2023, I will be an intern pharmacist at the Gold Coast University Hospital and feel privileged to grow and learn under the guidance of exceptional pharmacists with a wealth of knowledge and wisdom in the health industry.
Learn more about UQ's Bachelor of Pharmacy (Honours).