Top 5 reasons to pack your bags and head rural
I'm sure you'd all agree that professional placements are an exciting part of studying for our future careers in health. As pharmacy students, we're extremely fortunate to be able to work in the field as soon as we begin our degree, but for others, placements are often the first experience to see what it's like to work as a professional in your chosen career.
When it comes time to choosing a placement, you might be attracted to those closer to home. The thought of going rural may seem like a daunting experience to pursue - moving away from your support network into a far away region, where you're expected to meet new people as well as learn the ropes of your placement. I'm sure those of us from the city all have similar concerns,  but hear me out as I offer an insight into my rural placement experience, and my five biggest takeaways.
Learn from experts on the job
My most recent placement was a four-week block in Kingaroy. I had the opportunity to see and learn from three practising pharmacists who were very passionate about rural pharmacy. Some tasks I undertook included aged-care reviews, Opioid Treatment Programs (OTPs), stage supply, dispensing and patient consultation.
The staff I worked with were very informative and fantastic people to work alongside. They gave me the opportunity to experience all aspects of pharmacy while I was out there, and taught me how pharmacy in rural areas differs from pharmacy in the city.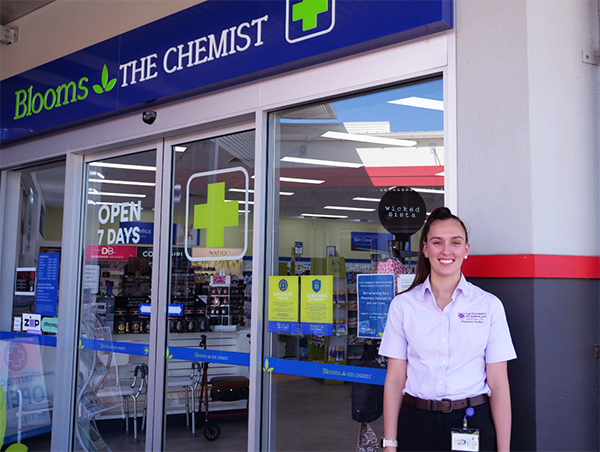 Make strong social connections
While on my most recent rural placement, in Kingaroy, I was fortunate to live with three of my close friends who are also in fourth year pharmacy, and this was one of the best experiences. We would come home from placement each day and share stories from our day.
I also bonded with the staff at the pharmacy where I was completing my placement. For the four weeks I was there I felt more like staff than a placement student! The manager allowed me to get involved in all aspects of the pharmacy, and I even had the opportunity to spend the weekend with one of the pharmacists, exploring the area and getting to know the history of the town.
Perform different tasks to urban setting
Seeing patients come into the pharmacy for a variety of different medication requests and diagnoses has shown me just how much more pharmacists do than dispense medications, particularly in rural areas.
I also discovered that a pharmacist in a rural location performs several tasks different from those performed by pharmacists in urban areas. If the pharmacists are unable to help the patient, they would advise the patient to have an online consultation. My preceptor explained how successful this approach has been.
Gain a better perspective of community needs
Placement, particularly my placement in Kingaroy, has increased my awareness of rural practices and the importance of having pharmacists in rural areas. Currently, the Kingaroy area is struggling for doctors, but having pharmacists on hand allows people to visit the pharmacy for specific guidance and reduces the number of patients who visit the doctor or the emergency department.
Rural pharmacy has so much to offer, and there is so much more than just learning about new procedures and skill; you also get to learn about the culture and history of the area.
I've realised how passionate I am about healthcare in rural areas. I now want to pursue a career as a pharmacist in a rural setting because I genuinely want to contribute to promoting and improving health in places like Kingaroy.
Open up a world of career options
Pharmacy has a wide range of career options, which is great because you can work in a field you're passionate about!
Just some of the career paths include working in community pharmacy, hospital pharmacy, compounding pharmacy, laboratory pharmacy and drug rep pharmacy.
Having worked in community pharmacy for nearly four years now, I'm very passionate about that field and working within the community, particularly rural pharmacy. Promoting and improving health care in rural areas is my goal.
Once I graduate, I'll be completing my internship in Ayr, North Queensland, which will allow me to further my knowledge and passion for rural health. In the future, I hope to continue to work within Ayr and other rural communities.
Every rural placement I've attended has positively impacted me, and has made me passionate about rural pharmacy. I would recommend any pharmacy student hesitant about rural placement to find a rural location with multiple pharmacies and travel out with some friends, as it's definitely worth experiencing a rural placement and the lifestyle they have to offer.
Interested in going on a rural or regional placement? Find out more about what you can expect from a rural or regional placement, how UQ can assist you on placement, and how to apply.