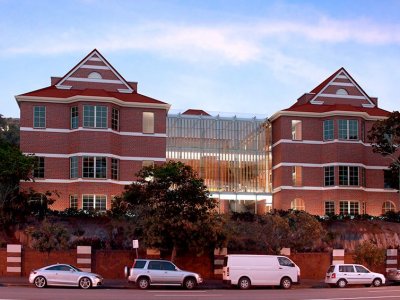 The iconic Whitty Building at Woolloongabba is home to a unique teaching environment for UQ nursing and midwifery students.
Originally opened in 1911 as the first Mater Misericordiae Public Hospital it is now a modern educational health precinct.
The $30 million redevelopment, completed in April 2016, is the result of an alliance between The University of Queensland and Mater Health Services.
Since October 2013 Mater and UQ have been partners in an Alliance Agreement to create a unique and outstanding clinical teaching environment.
The Alliance Agreement strengthens a long-standing relationship between the two organisations over a number of healthcare disciplines.
The Whitty Building collaboration – to allow for delivery of customised UQ/Mater nursing and midwifery programs – is the first of its kind in Australia.
The new environment allows medical, nursing, midwifery and allied health students to experience the best of theory and practice in a tertiary teaching hospital.
The precinct accommodates over 400 students and 65 teachers, providing simulation spaces and modern breakout areas for both individual and group study.
More than 250 UQ nursing and midwifery students are based at the Mater for the duration of their degree programs.