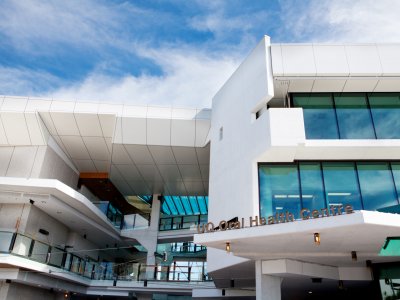 Australia's largest and most advanced dental facility is on your doorstep.
The UQ Oral Health Centre is the nation's largest and most advanced tertiary oral health facility and brings together renowned academics and researchers, leading practitioners and top tier students who are united by their passion to improve the lives of everyday Australians through better care.
The Centre provides the new home for the School of Dentistry, which was previously located at Turbot Street.
The Oral Health Centre's teaching facilities include clinical simulation areas, pre-clinical laboratories, lecture/seminar rooms, and research laboratories. Students have access to over 150 dental chairs distributed across 11 clinics, covering general practice dentistry, oral rehabilitation, paediatric dentistry, orthodontics, oral radiology, oral medicine, periodontics, endodontics, special needs dentistry and other specialist services, as well as a state of the art imaging centre, a learning centre and library.
Areas of specialist expertise include oral cancer diagnosis and treatment, with clinics for oral cancer outpatient care, including speech pathology, dietetics and ENT, involving health professionals as well as students from other schools in UQ's Faculty of Health and Behavioural Sciences. This is conjoint with other multi-disciplinary inter-professional clinics, including special needs dentistry. This provides excellent physical integration of patient care with ready access to the Queensland Radium Institute, the RBWH Bone Marrow Transplant Unit, the RBWH Maxillo-Facial Unit, and other relevant inpatient and outpatient care facilities.
Location
UQ has provided the site at its Herston campus, just 3.8 km from the School of Dentistry's previous Turbot Street location. The Oral Health Centre is positioned alongside UQ's School of Medicine and School of Public Health, and is immediately adjacent to the Royal Children's Hospital. The Royal Children's Hospital Inner Northern Busway is also conveniently located directly across the road.
Explore the Oral Health Centre on this 360° tour 
(click and drag your mouse to see the facility from all angles)
UQ Oral Health Centre featured on UQ News TV