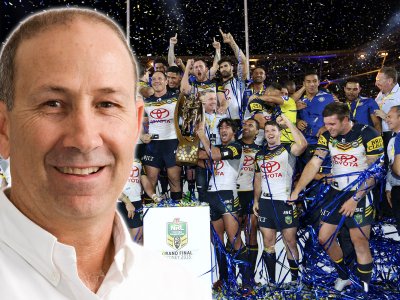 A sports psychology and coaching expert credited with playing a role in the North Queensland Cowboys'maiden NRL premiership is expected to become one of Australia's first professors of sports coaching.
Dr Cliff Mallett of The University of QueenslandSchool of Human Movement and Nutrition Sciencesis to be bestowed his new title on January 1, 2016.
"I'm told this will make me one of Australia's first professors in sports coaching," Dr Mallett said.
"That suggests sports coaching has become an established field for academic enquiry."
As an associate professor, Dr Mallett was pinpointed as a decisive coaching force in the Cowboys turning around a three-game losing streak at the start of 2015 and building to a historic premiership win.
Cowboys head coach Paul Green called in Dr Mallett after heavy 44-22 and 28-4 defeats against the Broncos and Roosters respectively, along with a 16-14 defeat at the hands of wooden spooners Newcastle.
Dr Mallett took the squad through activities that emphasised the importance of being present in the moment, regulating breathing and thinking clearly.
The team responded to the coaching immediately, beating perennial heavyweight Melbourne 18-17 the following week, before maintaining a consistent level of performance for the remainder of the season.
Shedding their reputation as rank outsiders, they dispatched Cronulla and Melbourne in the finals series, before beating Brisbane 17-16 in an unprecedented sudden-death grand final to become the premiership champions.
Dr Mallett was praised specifically for helping North Queensland prop James Tamou return to his barnstorming best after injuries led to a crisis of confidence.
Tamou referred to him as a "bit of a guru"
Dr Mallett was joined on the Cowboys' coaching staff by several other UQ alumni.
Coach Paul Green has a Graduate Certificate in Sports Coaching from UQ, Andrew Croll a Masters of Sports Coaching and Bachelor of Applied Science, and Anthony Wood a Bachelor of Exercise and Sports Sciences.
Dr Mallett is in North Queensland taking staff through a series of workshops about establishing organisational culture.
He has also been working on a publication that analyses the backgrounds and attributes of 14 of the world's most prolific sports coaches, who have trained more than 130 Olympic gold medal-winning performances.
Media: Dr Cliff Mallett cmallett@uq.edu.au , +61 0405 470 242; Robert Burgin, UQ Communications, r.burgin@uq.edu.au, +61 7 3346 3035, +61 448 410 364.