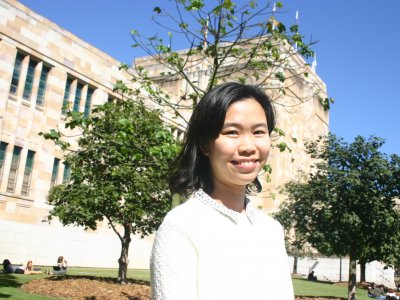 It was a representative of another Australian university that ultimately helped Cheryl Chew decide she wanted to study at The University of Queensland's School of Nursing, Midwifery and Social Work.
When the effervescent Singaporean began canvassing her options, the contact for the southern institution gave Ms Chew some unexpectedly honest advice.
"It's quite funny, because I had settled on two choices for my future, one of which was UQ," Ms Chew says.
"I rang the other university first and they told me that if I wanted an unbiased opinion and a job upon graduation, I should come here.
"So I took this leap of faith and I guess I've become quite at home as a Queenslander."
Now a clinical nurse at Brisbane's Wesley Hospital, 29-year-old Ms Chew is only months away from adding a Masters of Business Administration (MBA) to her Bachelor of Nursing degree.
It's a successful outcome for a student who admits she struggled to set goals or make decisions when she first entered college in Singapore.
Now she is so fond of her adopted home and career of choice that she regularly visits her alma mater – Ngee Ann Polytechnic – to advocate students continuing their education at UQ.
"I think the students there relate to me because I have been where they now are, striving and working hard to meet the requirements of the nursing program," Ms Chew says.
"I'm not a nerd or somebody who was always on the exclusive Dean's lists and I identify with many of the parental pressures children face in Singapore.
"My own parents were unhappy that I dropped out of my previous course of study to pursue nursing.
"But I'm a people person, someone who enjoys the intensity of an operating theatre and I want to do the best for every patient that comes under my care."
A resident of Toowong, close to both UQ and her workplace, Ms Chew enjoys an enviable lifestyle outside of her career.
She says she is amazed by the open, friendly manner in which she has been welcomed into Australian life and the frequent barbecues and get-togethers she is invited to attend.
And the sky is the limit in regards to her ambitions, with the looming MBA enhancing her options to move into hospital administration.
"I really do feel UQ made the difference for me," she says.
"The clinical placements at UQ are longer than at other universities and that helped me to learn more and become more familiar with the hospital environment.
"The smaller intake means special care is given to each student and the end result is that you become a versatile and work-ready healthcare professional."