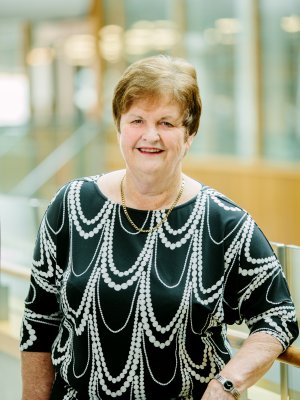 With a prolific career dedicated to helping people rehabilitate spanning over 45 years, Emeritus Professor Gwendolen Jull was among the 2016 Australia Day Honours recipients.
Professor Jull from UQ's School of Health and Rehabilitation Sciences and from the RECOVER Injury Research Centre was recognised for her distinguished service to medical education in the field of physiotherapy as an academic, researcher and administrator and to professional associations.
On receiving an Officer of the Order of Australia (AO) Professor Jull said she was thrilled to receive such a significant award.
"What I have loved about my career in physiotherapy is working to help people rehabilitate to achieve optimal quality of life following injury or disease," Professor Jull said.
"I have been lucky to work across many areas including clinical practice and in research particularly in the field of neck pain.
"I have also been privileged to teach physiotherapy students and practitioner's research informed management methods at UQ, nationally and internationally."
With an astounding list of accolades to her name in research and teaching and in recognition for her contributions to both national and international physiotherapy organisations, it is seeing the achievements of students Professor Jull has worked with that shine as her career highlights.
"I have taught very talented students over the 36 years I have worked at UQ, many of whom are now leaders in their own right within Australia and internationally and this gives me great pleasure to see their success."
Other recipients from UQ's Faculty of Health and Behavioural Sciences who received Australia Day Honours Awards included:
Emeritus Professor Sue Spence, Honorary Professor in the School of Psychology and a former Head of the School, received an Officer of the Order of Australia (AO). Professor Spence was recognised for her distinguished service to mental health research, particularly to prevention and treatment in young people, to tertiary education, and as a mentor.
Professor Karen Healy from the School of Nursing, Midwifery and Social Work was awarded a Member of the General Division. Professor Healy was recognised for her significant service to community welfare in the field of social work, particularly in child protection and to higher education and research.
Professor Bruce Abernethy, Executive Dean of UQ's Faculty of Health and Behavioural Sciences congratulated the award recipients on their contributions to the university and the broader community.
"The three recipients have dedicated their careers to improving the lives of others in the fields of physiotherapy, community welfare and mental health and it is great to see their commitment rewarded," Professor Abernethy said.
"The Faculty and University is strengthened by having such high calibre people amongst its staff."
You can view the full Australia Day honours list here.
Media: Kirsten O'Leary k.oleary@uq.edu.au, 0412 307 594