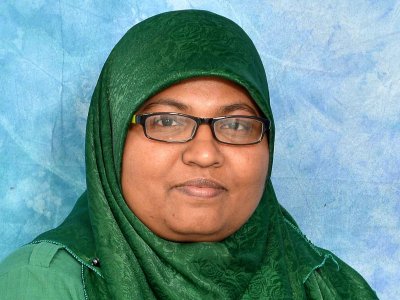 Shehenaz Ismail's pride in teaching psychology in the Maldives shines through when she describes her work.
The University of Queensland Master of Counselling graduate is a lecturer at the Maldives National University, teaching neuropsychology, forensic psychology, cognitive psychology, and counselling psychology.
"Having the opportunity to educate the very first batch of Bachelor of Psychology students trained in the Maldives is something I'll never forget," Ms Ismail said.
"And I'm now involved in the development of a Masters of Clinical Psychology program for the university – another first of its kind in the Maldives."
Ms Ismail credits her success in the field to the inspiring lecturers and classmates at UQ.
"Their commitment, dedication and motivation helped me to stay focused on my studies," Ms Ismail said.
"I got to learn and experience life with people from diverse cultural and religious backgrounds.
"The willingness of lecturers to assist and explain material really facilitated the growth of my knowledge."
It was the actions of UQ staff that confirmed to Ms Ismail that her decision to pursue a career in counselling was the right choice.
"I had a family crisis during my time at UQ, and it was the warmth, kindness and understanding shown by the lecturers that emphasised my decision to become a counsellor," Ms Ismail said.
"Their openness and support aided me in overcoming the obstacles I faced while I was studying."
When not lecturing or developing curricula at the Maldives National University, Ms Ismail volunteers as a student support counsellor.
She is also heavily involved in cancer support research and counselling.
"I initiated and developed the first – and currently only – cancer support group in the Maldives for patients, survivors and primary care takers," Ms Ismail said.
Ms Ismail is currently undertaking research with assistance from the Cancer Society of Maldives to understand the role of religion and spirituality in the psychological adjustment and coping of Maldivian cancer patients.
Looking to the future, Ms Ismail says she would like to continue her work as a lecturer, undertake more research, complete a PhD in Counselling Psychology, and open her own clinic for private practice.
Further information is available about gaining Master of Counselling accreditation via the UQ School of Nursing, Midwifery and Social Work.
Media: Dani Nash, UQ Communications, dani.nash@uq.edu.au, +61 7 3346 3035.