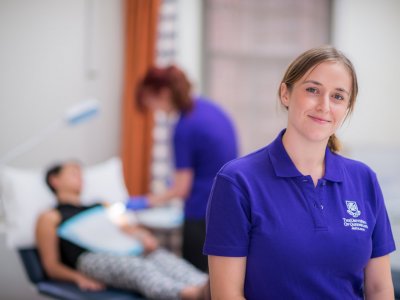 It's the helping hand designed to assist those who often put others first.
School of Nursing, Midwifery and Social Workstudents from The University of Queensland are invited to apply for a Walter and Eliza Hall Trust Opportunity Scholarship.
Head of School Professor Helen McCutcheon said there were three scholarships on offer from the 104-year-old trust.
"The Trust would like to assist students in financial need who aspire to positively contribute back into Australian society once they graduate," Professor McCutcheon said.
"Recipients must be current students enrolled in either their second, third or fourth year of study, and must be Australian and New Zealand citizens or permanent residents of Australia.
"They must have performed adequately to date and grade point average is considered, but not the sole determinant of who receives the scholarships.
"More than anything, the Trust wants to hear why the applicant is studying that particular field and where they see themselves making a difference in the future."
Two scholarships are available for those in either the Bachelor of Nursing or Bachelor of Nursing/Bachelor of Midwifery dual degree.
A further scholarship is available for a student studying the Bachelor of Social Work or Bachelor of Social Work (Honours).
All scholarships are for AU$10,000, increased from last year's award amount of AU$6000.
"The purpose is to provide assistance to a meritorious student who may be prevented from achieving their maximum potential by financial circumstance," Professor McCutcheon said.
"Scholarship money is intended to go towards equipment such as a laptop or textbooks and only in exceptional circumstances is it approved for payment of day-to-day living expenses."
Applications for the Opportunity Scholarships opened on Monday 16 January and close on Friday 3 March 2017.
The Walter and Eliza Hall Trust was established in 1912 with a donation of £1,000,000 by Eliza Hall following the death of her husband Walter.
Walter was involved in iconic Australian stagecoach company Cobb and Co. and was also a founding partner of the Mount Morgan Gold Mining Company in Queensland.
Since the trust was established, it has helped tens of thousands of Australians affected by poverty, with educational scholarships just one part of a wider philanthropic contribution.
Interested applicants for the nursing scholarships and social work scholarship should visit the school website.