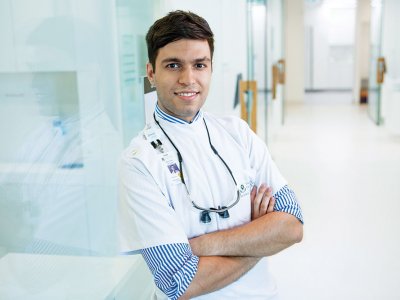 A decade after fleeing his native Iran, Dr Hooman Baghaie, knows the importance of being able to smile.
This is why the University of Queensland Bachelor of Dental Science graduate and childhood refugee gives back to those in disadvantaged communities.
"I arrived in Australia at the age of 12," Dr Baghaie said.
"My parents, my younger sisters and I were forced to leave Iran because we belonged to the Baha'i faith.
"Part of my development as a dentist has been to give something back to the community.
"I have been fortunate enough to be involved in numerous research projects with refugees, rural Australians and those suffering from mental illnesses.
"UQ has supported me to provide volunteer dental care in East Timor and Cambodia, and in Australia with the Royal Flying Doctor Service."
Head of the School of Dentistry Professor Pauline Ford said Dr Baghaie had achieved the highest clinical marks in both his third and fourth years of a Bachelor of Dental Science.
Professor Ford described him as an exceptional student and an inspiration to others.
"Hooman received a number of prizes, awards and medals in recognition of his academic achievement," Professor Ford said.
"He has displayed a passion for helping those in need, and volunteered a generous amount of his time to serve those, both in Australia and abroad.
"He had already been employed by the School of Dentistry as a casual tutor and, in 2015, he received the Pierre Fauchard Award in recognition of his character, work ethic and academic ability.
"These qualities, along with a dedication to research and advocacy for the disadvantaged, were also keys to his nomination as valedictorian in 2016."
Dr Baghaie is now working as a dentist on the Gold Coast, and is continuing his studies and research.
Media: Dani Nash, UQ Communications, dani.nash@uq.edu.au, +61 7 3346 3035.