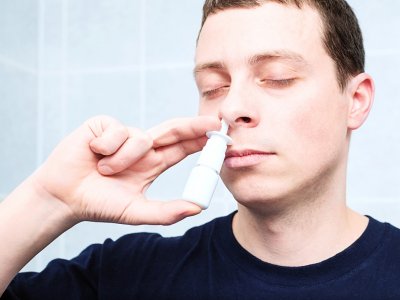 Developing a soluble gel to deliver cannabinoids directly to the brain via the nasal cavity is the focus of a second research and option agreement signed between Canadian health and wellness company PreveCeutical Medical Inc. (PMI) and The University of Queensland's main commercialisation company UniQuest.
UniQuest CEO Dr Dean Moss said PMI was interested in accessing UQ's intellectual property and expertise to develop soluble gels (sol-gels) to deliver cannabinoids to the central nervous system (CNS). 
The announcement comes less than a week after an agreement was signed between the two parties to stabilise peptides isolated from scorpion venom for use in immune-boosting applications. 
"Sol-gels potentially provide a safer, more reliable platform to deliver drugs, such as cannabinoids, directly to the CNS, avoiding unwanted rapid metabolism, thus providing clinical benefit from direct nose-to-brain delivery," Dr Moss said. 
The UQ researcher behind the technology, Dr Harendra (Harry) Parekh of UQ's School of Pharmacy, will work collaboratively with PMI on the research program which involves analysing plant-derived cannabinoids and formulating them into sol-gels for further testing.
Dr Parekh said sol-gels were liquid when sprayed into the nose and formed gels when warmed in the nasal cavity. 
"This feature can potentially be exploited to deliver drugs through the nasal mucosa," he said. "The longer-term goal is to develop sol-gels as safe, reliable delivery systems for cannabinoid extracts across a range of disease indications."
PMI Chairman and Chief Executive Officer Stephen Van Deventer said increasing evidence of the clinical benefits associated with cannabinoids and the recent legalisation of 'medical marijuana' across a number of jurisdictions were the drivers for the collaboration.
"Working with UniQuest and UQ will provide the company with unique opportunities to develop new health and wellness products," he said. 
"Nasal delivery of cannabinoids could potentially provide a safer and more reliable delivery platform with clinical benefits for pain, inflammation, seizures, and mental illness." 
The agreement provides PMI with an option to negotiate a license to use UniQuest's sol-gel technology for the commercialisation of cannabinoid-based products.
---
About UniQuest
UniQuest is the main commercialisation company of The University of Queensland (UQ), specialising in the commercialisation of intellectual property, research outcomes and expertise. UniQuest delivers commercialisation outcomes which provide impact for business, the environment, global communities and society. UniQuest benchmarks in the top 10 percent globally for university-based technology transfer. UQ innovations licenced by UniQuest are now generating annual sales of more than $US3 billion.  For example, UQ superconductor technology, through licensing arrangements, is used in two-thirds of the world's MRIs and more than 80 million doses of the life-saving Gardasil® cervical cancer vaccine, patented by UniQuest in 1991, have been distributed throughout 121 countries, including 72 developing countries.