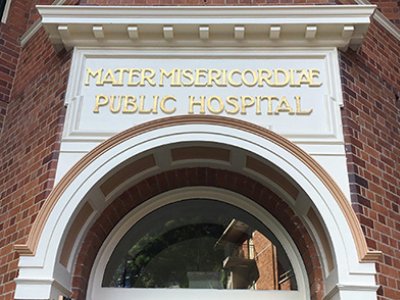 One of Mater's oldest buildings at South Brisbane, the Whitty Building, has been returned to its former glory and transformed into a unique education precinct for Mater and The University of Queensland's (UQ) medical, nursing, midwifery and allied health students.
Constructed in 1911 as the first Mater Misericordiae Public Hospital, the heritage-listed building has been refurbished to create a modern facility conducive to collaborative learning, while maintaining its architectural features, including original pressed metal ceilings and stained glass windows.
The building was officially opened by Director-General, Queensland Health, Mr Michael Walsh and blessed by His Grace, The Most Reverend Mark Coleridge, Archbishop of Brisbane last week.  
After many months of planning and construction, Mater Group Chief Executive Officer Dr Shane Kelly said it was a wonderful milestone to have the works completed and now utilised by Mater and UQ students. 
"Mater's relationship with UQ spans more than 60 years and more recently, Mater has provided clinical training and placements to hundreds of medical, nursing, midwifery and allied health students annually, with over 1200 undergraduate health professional students undertaking their clinical education at Mater in 2015.  
"We offer Medical, Registered Nurse, Registered Midwife and Enrolled Nurse Graduate Programs every year throughout the Mater campus, with more than 100 medical, nursing and midwifery graduates commencing their clinical career with us each year.
"This collaboration only cements our commitment to clinical-based education and the training of students across all healthcare disciplines," he said. 
In October 2013, Mater and UQ agreed to strengthen their relationship even further and enter into an Alliance Agreement to create an outstanding clinical teaching environment which allowed students to experience the best of theory and practice in a tertiary teaching hospital. 
Professor Peter Høj, Vice-Chancellor and President of The University of Queensland, said the Whitty Building had been transformed into a contemporary educational health precinct with a strong clinical link to Mater. 
"We are delighted that this important piece of history has been lovingly adapted to serve the highest modern standards of teaching, research and clinical care," Professor Høj said.
"Furthermore, the university wholeheartedly supports this example of maintaining Brisbane's significant built heritage.
"It is a fine example of old meets new, where a historic building has become a cutting-edge clinical teaching environment for UQ nursing and midwifery students."
UQ's School of Nursing, Midwifery and Social Work Professor Helen McCutcheon, who previously worked at Mater, said the new space would continue to allow students to set new academic standards.
The precinct will accommodate over 400 students and 65 teachers, providing simulation spaces and modern breakout for both individual and group study.
Works on the building commenced in April 2014 and were completed in February this year in time for students to commence study in 2016. 
Media: Jacqueline Hayes, Mater Health Services, (07) 3163 2378 or 0422 115874.