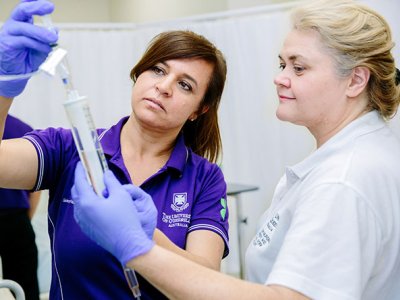 Health education, training and research in rural south Queensland will receive a major boost thanks to the establishment of a new University Department of Rural Health (UDRH).
The University of Queensland has joined with the University of Southern Queensland and the Hospital and Health Services of Darling Downs and South West in a successful bid for Commonwealth fundingto establish Southern Queensland Rural Health.
Nursing and midwifery and allied health students (physiotherapy, pharmacy, psychology, social work, occupational therapy, speech pathology, dietetics, and exercise physiology), will be placed in the Darling Downs and the South West, and the western area of the West Moreton region.
The supervisory capacity of the existing regional health workforce will be increased and students will be embedded into local communities.
Faculty of Health and Behavioural Sciences Executive Dean Bruce Abernethy said the new initiative will complement UQ's existing medical education and training for students in rural and regional areas.
"UQ's Rural Clinical School provides high quality education and training to medical students, so I am delighted that the UDRH funding will allow us to extend this opportunity to the next generation of rural allied health, nursing and midwifery professionals," he said.
"Rural placement allows students to experience the full scope of practice, which will now include inter-disciplinary education."
Research indicates that students who have been on rural practice are far more likely to return to work in rural areas once they qualify. 
"For the local communities, this is part of a long-term strategy to address maldistribution of the health workforce," Professor Abernethy said.
"Rural and remote regions of Queensland and Australia often face challenges in attracting and retaining qualified health professionals. 
"Students on rural placement will discover the diverse range of professional opportunities available in regional areas, thus enhancing the sustainability and viability of rural health care services."
Media: UQ Communications, Dani Nash, dani.nash@uq.edu.au, +61 7 3346 3035.